The Drowned Vault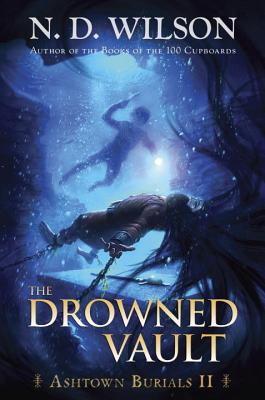 The Drowned Vault
Random House Books for Young Readers, Hardcover, 9780375864407, 449pp.
Publication Date: September 11, 2012
* Individual store prices may vary.
Buy at Local Store
Enter your zip code below to purchase from an indie close to you.
or
Not Currently Available for Direct Purchase
Description
Fans of both Percy Jackson and Indiana Jones will be captivated by the lost civilizations, ancient secrets, and buried treasure found in the second book of the Ashtown Burials series, action-packed adventure by N. D. Wilson, the author of "Leepike Ridge" and the 100 Cupboards trilogy.
It's been almost a year since Cyrus and Antigone Smith earned their places as Journeymen at Ashtown, home of an ancient order of explorers that has long guarded the world's secrets and treasures. While their studies go well, Cy and Tigs are not well liked since losing the Dragon's Tooth to the nefarious Dr. Phoenix. The Tooth is the only object in the world capable of killing the long-lived transmortals, and Phoenix has been tracking them down one-by-one, and murdering them.
The surviving transmortals, led by legendary warrior Gilgamesh of Uruk, descend on Ashtown in force, demanding justice. Cy and Tigs find themselves on the run in a desperate search to locate Phoenix and regain the Tooth. In the process, they uncover an evil even more dangerous than Phoenix, one that has been waiting for centuries to emerge.
About the Author
N. D. WILSON is the bestselling author of the 100 Cupboards series and "Leepike Ridge." Once, in the fourth grade, he split his buddy's arrow while shooting at a mattress from twenty yards. Now he writes at the top of a tall, skinny house, where he lives with a blue-eyed girl he stole from the ocean, their five young explorers, two tortoises, and one snake.
Praise For The Drowned Vault…
School Library Journal, October 2012:
"This action-packed sequel to The Dragon's Tooth (Random, 2011) promises--­and delivers­--as much magic, mystery, and mythology as its predecessor. Thanks to Cyrus and Antigone Smith, Dr. Phoenix now possesses the Dragon's Tooth--­and he's been using it to hunt and kill immortals worldwide. Phoenix has a dark agenda, but an evil alliance of immortals, Ordo Draconis, also seeks the tooth's power. Worse, the Ordos have a centuries-old vendetta against the Smith family. Circumstances within the Order of Brendan are already shaky when fearful immortals, led by Gilgamesh of Uruk, storm Ashtown, demanding Smith blood. The siblings narrowly escape. To help retrieve the tooth, they recruit the infamous immortal, Captain John Smith. Cyrus has a plan, but will it work? Characters are well drawn, and the story's many interwoven plotlines, although complex, are easy to follow. This absorbing guy-friendly adventure will appeal to fans of Michael Scott and Rick Riordan.­"

Booklist, September 15, 2012:
"Cyrus and Antigone Smith have a lot of problems. Their mother is still unresponsive in the hospital. The Ordo Draconis was stopped the last time out by their ancestor, Captain John Smith, but the cabal seems intent on rising to power again. The siblings should be training to become explorers, but there isn't enough time. The leadership of the Order of Brendan is changing, and the transmortals--like Gilgamesh of Uruk--want revenge on Cyrus because he inadvertently put the Tooth of the Dragon into the hands of Dr. Phoenix. It's no wonder the Smiths are on the run with the other Polygoners. They must fight their way through physical and emotional torture as they seek to release Captain Smith and stop Phoenix. Beginning where The Dragon's Tooth (2011) left off, Wilson's second installment is fast-paced and creatively plotted. New characters, such as Arache and her spiders and a mysterious red-winged blackbird, add complexity in relationships and prevent the story line from feeling contrived. In exploring the idea of what
it means to be truly alive, this novel will take your breath away."