The Carpenter's Gift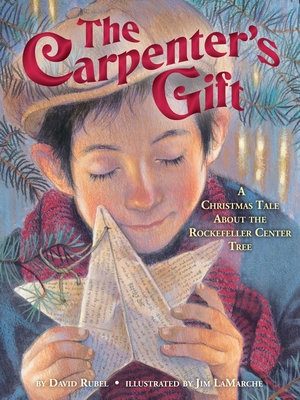 The Carpenter's Gift
A Christmas Tale about the Rockefeller Center Tree
Random House Books for Young Readers, Hardcover, 9780375869228, 40pp.
Publication Date: September 27, 2011
* Individual store prices may vary.
Buy Now
or
Shop Local
Enter your zip code below to purchase from an indie close to you.
Description
This new classic Christmas gift book "brings together two great traditions: the Rockefeller Center Christmas tree and the neighbor-helping-neighbor program of Habitat for Humanity." Opening in Depression-era New York City, The Carpenter's Gift tells the story of eight-year-old Henry and his father selling Christmas trees. They give a Christmas tree to construction workers building Rockefeller Center and celebrate together. Through the kindness of the construction workers and neighbors, Henry gets his wish for a nice, warm home to replace his family's drafty shack. He plants a pinecone from that first Rockefeller Center Tree. As an old man, Henry repays the gift by donating the enormous tree that has grown from that pinecone. After bringing joy to thousands as the Rockefeller Center tree, its wood will be used to build a home for another family in need.
Written by children's nonfiction author David Rubel in collaboration with Habitat for Humanity. Gorgeous illustrations crafted by Jim LaMarche.
About the Author
David Rubel is the author of the Scholastic Encyclopedia of the Presidents and Their Times and the Scholastic Atlas of the United States. He lives in Chatham, New York.
Jim LaMarche wrote and illustrated The Raft. He also illustrated Little Oh and The Rainbabies, both by Laura Krauss Melmed. He lives in Santa Cruz, California. In His Own Words...
"It's funny how things turn out. I wasn't one of those kids with a clear vision of the future, the ones who know at age five that they will be writers or doctors or artists. I liked to draw, but then, so did most of the kids I knew, and growing up to be an artist never really occurred to me. What I did want to be, in order of preference, was a magician, Davy Crockett, a doctor, a priest (until I found out they couldn't get married), and a downhill ski racer.
"But I always loved to make things, and once I got going on a project I loved, I stuck with it. Once, when I was five or six, I cut a thousand cloth feathers out of an old sheet, which I then attempted to glue to my bony little body. I was sure I could have flown off the back porch if I'd just had a better glue. Another time I dug up some smooth blue-gray clay from the field behind our house, then molded it into an entire zoo, dried the animals in the sun, and painted them as realistically as I could. I made a grotto out of cement, a shoe box, and my fossil collection. I made moccasins out of an old deerhide I found in the basement.
"I grew up in the little Wisconsin town of Kewaskum, the soul of which was the Milwaukee River. In the summer we rafted on it and swam in it. In the winter we skated on it, sometimes traveling miles upriver. In the spring and fall my dad took us on long canoe trips, silently sneaking up on deer, heron, and fields of a thousand Canada geese. And almost all year long we fished for bullheads and northerns from the dam.
"I began college at the University of Wisconsin as a biology major, but somewhere along the line--I'm not sure when or even why--I switched to art, and graduated with a bachelor of science degree in art. I still had no idea of becoming a professional artist, however. In the meantime, I joined VISTA (Volunteers in Service to America) and moved to Bismarck, North Dakota, to work with United Tribes of North Dakota creating school curriculum materials. It was a great job. Because there were only a few of us, I was able to try my hand at a little of everything: writing, graphic design, photography, and illustration. It was then that I slowly realized that it might be possible for me to make a living at art. I moved to California, and in the evenings-after working all day as a carpenter's assistant--I put together a portfolio.
"Twenty years later, I'm still here, living in Santa Cruz with my wife, Toni, and our three sons, Mario, Jean-Paul, and Dominic. The Pacific Ocean is only a few blocks away, and the scenery is very different from that of the Midwest, but somehow Kewaskum and the Milwaukee River show up in almost everything I draw. They provided the details of setting for The Rainbabies, Carousel, and Grandmother's Pigeon, and they are the setting for the book I'm working on now, my own story about the magic of a raft.
"I feel very lucky to have ended up as an illustrator of children's books. And maybe that isn't so different from my childhood dream of being a magician after all. Starting with a clean sheet of paper and with nothing up my sleeves, I get to create something that was never there before."
Praise For The Carpenter's Gift…
Review, The Horn Book, November/December 2011
"Rubel's story of compassion hits all the right holiday notes; LaMarche's lush, warm illustrations of glowing Christmas trees and smiling, caring characters drive home the central message of charity."

Review, School Library Journal, October 1, 2011
"Detailed characterizations and a straightforward tone keep the tender tale from becoming saccharine. LaMarche's almost impressionistic colored-pencil illustrations put readers in the midst of the action."

Review, Publishers Weekly, September 26, 2011
"Author/historian Rubel's story of a Depression-era family's connection to that first tree—and the ripple effect of its bounties—puts the now magnificent symbol in perspective. LaMarche conveys emotional resonance with gauzy, soft-hued paintings of the inspirational proceedings."

"The Carpenter's Gift captures two of New York City's greatest traditions ― the Rockefeller Center tree lighting and giving back to people in need― in a way that families can share together all year long." ― Michael R. Bloomberg, Mayor of the City of New York

"The heartwarming tale told in The Carpenter's Gift brings together—through beautiful illustrations and a moving, multi-generational story—two great traditions: the Rockefeller Center tree and the neighbor-helping-neighbor program of Habitat for Humanity."   —Jimmy Carter, 39th President of the United States and dedicated Habitat volunteer

"Through my support of Habitat for Humanity, I have seen all of the good that can happen when people work alongside each other to build something better. I see the same thread in The Carpenter's Gift, a sweet story" about a young boy whose life is changed when new friends help his family build a house — Susan Sarandon, actress

"My dad was a carpenter who built the house we grew up in, and this book brings to mind his gentle nature and generosity."  — Garrison Keillor, storyteller