Escape from Mr. Lemoncello's Library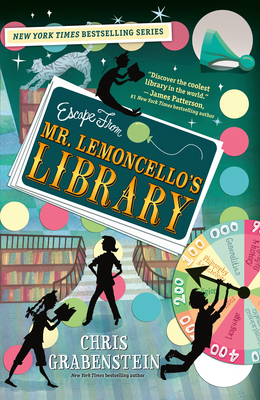 Escape from Mr. Lemoncello's Library
Random House Books for Young Readers, Hardcover, 9780375870897, 291pp.
Publication Date: June 25, 2013
* Individual store prices may vary.
Shop Local
Enter your zip code below to find indies closest to you.
Description
A New York Times Bestseller
Kyle Keeley is the class clown, popular with most kids, (if not the teachers), and an ardent fan of all games: board games, word games, and particularly video games. His hero, Luigi Lemoncello, the most notorious and creative gamemaker in the world, just so happens to be the genius behind the building of the new town library.
Lucky Kyle wins a coveted spot to be one of the first 12 kids in the library for an overnight of fun, food, and lots and lots of games. But when morning comes, the doors remain locked. Kyle and the other winners must solve every clue and every secret puzzle to find the hidden escape route. And the stakes are very high.
In this cross between "Charlie and the Chocolate Factory" and "A Night in the Museum, " Agatha Award winner Chris Grabenstein uses rib-tickling humor to create the perfect tale for his quirky characters. Old fans and new readers will become enthralled with the crafty twists and turns of this ultimate library experience.
"Pick up "Escape from Mr. Lemoncello's Library" for your kids to discover the coolest library in the world." James Patterson, #1 "New York Times" bestselling author
30 STATE AWARDS AND COUNTING -- INCLUDING THE SUNSHINE STATE AWARD
About the Author
Chris Grabenstein is a "New York Times" bestselling author who has collaborated with James Patterson on numerous books, including the I Funny series and "Daniel X: Armageddon". He lives in New York City.
Praise For Escape from Mr. Lemoncello's Library…
A New York Times Bestseller

Starred Review, Booklist, June 1, 2013:
"An ode to libraries and literature that is a worthy successor to the original madman puzzle-master himself, Willy Wonka."

Starred Review, Kirkus Reviews, May 1, 2013:
"Full of puzzles to think about, puns to groan at and references to children's book titles, this solid, tightly plotted read is a winner for readers and game-players alike."

"Pick up Escape from Mr. Lemoncello's Library for your kids to discover the coolest library in the world." —James Patterson, #1 New York Times bestselling author

"Escape From Mr. Lemoncello's Library...is fantastic. It is one of the best books I've read, ever, and that is saying something because I am a librarian. The game, gaining understanding of the Dewey Decimal System, all the name dropping, or should I say, title dropping of so many other great books that will encourage the kids to read more, and more and more . . . it all works. I will recommend it to children and adults alike. It is that good." —Julie Forbus, Madison Public Library