The Black Heart Crypt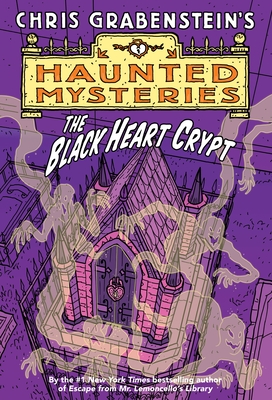 The Black Heart Crypt
Yearling Books, Paperback, 9780375873010, 326pp.
Publication Date: August 28, 2012
* Individual store prices may vary.
Buy Now
or
Shop Local
Enter your zip code below to purchase from an indie close to you.
Description
Halloween is near, the one day of the year when the ghostly plane is close enough to the human plane to allow mischief and mayhem. But the ghosts who have their eye on Zack aren't thinking mischief, they are thinking murder.
In the fourth volume of Chris Grabenstein's popular Haunted Mysteries series, Zack must yet again do battle with malevolent spirits. And with perseverance and pluck, and the assistance of three dotty aunts, he must save his town from a 200-year-old threat.
Once again Chris Grabenstein proves his mastery of the frightening and funny tale. Young readers, especially reluctant ones, have been inspired to read by Grabenstein's quirky characters and deadly situations.
About the Author
Chris Grabenstein is an award-winning author. His debut John Ceepak mystery "Tilt-A-Whirl" was included on several "Best Mysteries of 2005" lists and won the Anthony Award for "Best First Mystery." "Mad Mouse", the second series title, was named one of the ten best mysteries of 2006 by "Kirkus". Chris is also the author of the Christmas thrillers "Slay Ride" and its sequel "Hell for the Holidays". Chris lives in New York City with his beloved wife J.J., three cats and a dog.