Feeling Good: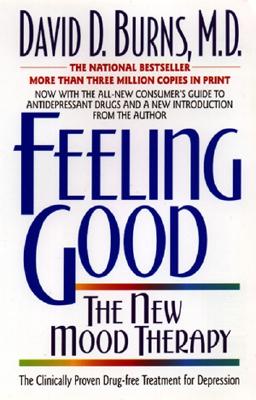 Feeling Good:
The New Mood Therapy
Quill, Paperback, 9780380731763, 736pp.
Publication Date: April 6, 1999
* Individual store prices may vary.
Buy at Local Store
Enter your zip code below to purchase from an indie close to you.
or
Buy Here
Description
The good news is that anxiety, guilt, pessimism, procrastination, low self-esteem, and other black holes of depression can be cured without drugs. In Feeling Good, eminent psychiatrist David D. Burns, M.D. outlines the remarkable, scientifically proven techniques that will immediately lift your spirits and help you develop a positive outlook on life.
Now, in this updated edition, Dr Burns adds an all-new Consumer's Guide To Antidepressant Drugs, as well as a new introduction to help answer your questions about the many options available for treating depression.
Recognise what causes your mood swings.
Nip negative feelings in the bud.
Deal with guilt.
Handle hostility and criticism.
Overcome addiction to love and approval.
Build self-esteem.
Feel good everyday.
About the Author
David D. Burns, M.D., a clinical psychiatrist, conveys his ideas with warmth, compassion, understanding, and humor unmatched by any other writer in the self-help field. His bestselling Feeling Good: The New Mood Therapy has sold more than three million copies to date. In a recent national survey of mental health professionals, Feeling Good was rated number one from a list of more than one thousand as the most frequently recommended self-help book on depression. His Feeling Good Handbook was rated number two in the same survey.
Dr. Burns's entertaining teaching style has made him a popular lecturer for general audiences and mental health professionals throughout the country as well as a frequent guest on national radio and television programs. He has received numerous awards including the Distinguished Contribution to Psychology Through the Media Award from the Association of Applied and Preventive Psychology. A magna cum laude and Phi Beta Kappa graduate of Amherst College, Dr. Burns received his medical degree from the Stanford University School of Medicine. He is currently clinical associate professor of psychiatry at the Stanford University School of Medicine and is certified by the National Board of Psychiatry and Neurology.
Aaron Temkin Beck, M.D. is the father of Cognitive Therapy, having created and refined cognitive therapy over the course of his research and clinical career. He has published more than 600 scholarly articles and 25 books and has developed widely-used assessment scales. He has received many prestigious awards including the 2006 Albert Lasker Clinical Medical Research Award for developing cognitive therapy, which fundamentally changed the way that psychopathology is viewed and its treatment is conducted. On October 23, 2013, Dr. Aaron T. Beck became the first recipient of the Kennedy Community Health Award from the Kennedy Forum. This award marks the 50th anniversary of Community Mental Health Act the last piece of legislation that was signed by President John F. Kennedy which transformed the way mental illness was treated. Dr. Beck was honored as the father of cognitive therapy and as one of the most influential individuals within the community of mental health. He has been listed as one of the "10 individuals who shaped the face of American Psychiatry" and one of the 5 most influential psychotherapists of all time. Dr. Beck is an emeritus professor in the Department of Psychiatry at the University of Pennsylvania and the director of the Aaron T. Beck Psychopathology Research Center. His current research focuses on cognitive therapy for schizophrenia, cognitive therapy for suicide prevention, and dissemination of cognitive therapy into community settings.