The Given Day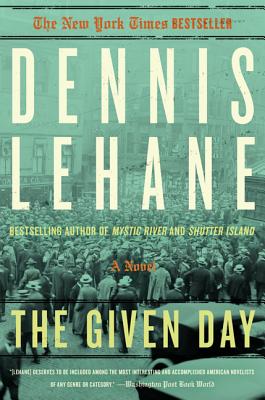 The Given Day
Harper Perennial, Paperback, 9780380731879, 704pp.
Publication Date: September 1, 2009
* Individual store prices may vary.
Buy at Local Store
Enter your zip code below to purchase from an indie close to you.
or
Not Currently Available for Direct Purchase
Description
Set in Boston at the end of the First World War, bestselling author Dennis Lehane's extraordinary eighth novel unflinchingly captures the political and social unrest of a nation caught at the crossroads where past meets future. Filled with a cast of richly drawn, unforgettable characters, The Given Day tells the story of two families—one black, one white—swept up in a maelstrom of revolutionaries and anarchists, immigrants and ward bosses, Brahmins and ordinary citizens, all engaged in a battle for survival and power. Coursing through the pivotal events of a turbulent epoch, it explores the crippling violence and irrepressible exuberance of a country at war with, and in the thrall of, itself.
Praise For The Given Day…
"A gripping historical novel. . . . Infused with the same dark drama that set apart his earlier books."
-Parade

"A brawling, brawny, muscular epic—exactly what great mainstream novels used to be."
-Lee Child

"This may be Lehane's finest work. . . . But The Given Day is more than a history lesson. . . . Lehane captures the essence of being American in a fast-changing society that eerily reflects our own."
-USA Today

"If you're swinging for the fences, it only makes sense that your novel begin with a lengthy, and very tasty, story about Babe Ruth. That Dennis Lehane sustains that level of play . . . is what gives THE GIVEN DAY a kind of greatness. . . . Lehane dazzles."
-Chicago Sun-Times

"The problem falls to readers to find something—anything—that doesn't pale in comparison once they've closed the covers on this 720-page masterpiece. Quite simply, THE GIVEN DAY is about as close to the great American novel as we're likely to read until … well, until Lehane writes another."
-BookPage

"Gut-wrenching force. . . . A majestic, fiery epic. . . . The Given Day is a huge, impassioned, intensively researched book that brings history alive."
-New York Times

"The Given Day is a vast historical novel. . . . Spectacular details. . . . Finely thought-out. . . . . Many stunningly managed scenes."
-Boston Globe

"Superbly written, meticulously researched. . . . A thoughtful, provocative exploration of race, fame, power, and political corruption in American culture. . . . The Given Day places [Lehane] in the first rank of modern American novelists."
-Associated Press

"As much a thriller as any of Lehane's previous work. Even beyond the historical events, THE GIVEN DAY qualifies as a sprawling, sweeping epic. . . . Lehane's masterful packing and precise prose make the story speed by."
-Orlando Sentinel

"Steeped in history but wearing its research lightly, The Given Day is a meaty, rich, old-fashioned and satisfying tale. I'd call it Lehane's masterpiece."
-Seattle Times

"[A] work of admirable ambition and scope. . . . Lehane is as much like contemporaries George Pelecanos and Richard Price as he is like the bygone Boston-based John P. Marquand, the Pulitzer Prize-winning novelist."
-Los Angeles Times Book Review

"A splendid flowering of the talent previously demonstrated in his crime fiction. . . . A vision of redemption and a triumph of the human spirit. In short, this nail-biter carries serious moral gravity."
-Publishers Weekly (starred review)

"[Lehane] deserves to be included among the most interesting and accomplished American novelists of any genre or category. . . . A powerful moment in history, and Lehane makes the most of it. . . . Heartfelt and moving."
-Washington Post Book World

"Packed with dramatic turning points. . . . Lehane has tried to capture the zeitgeist of an era even nuttier and more tumultuous than our own, and succeeded.""
-Entertainment Weekly

"Here's one way to get people excited about the nation's past: Get Dennis Lehane to write the history books. . . . A meticulously researched tale that in the hands of this master storyteller jumps right off the page and hollers."
-St. Petersburg Times

"One of the fall's biggest books—and not just because it's 704 pages. It's Lehane's most ambitious and literary work."
-USA Today

"Lehane's first historical novel is a clear winner. . . . As good as it gets."
-Library Journal (starred review)

"Brilliantly constructed. . . . Like E. L. Doctorow in Ragtime, Lehane captures the sense of a country coming of age, vividly dramatizing how the conflicting emotions and tortured dreams that drive individual human lives also send a nation roiling forward."
-Booklist (starred review)

"A historical epic that is easily the most ambitious work of Dennis Lehane's career. . . . THE GIVEN DAY aspires to be nothing less than the Great American Novel. . . . If Lehane was ever a singles hitter, now he's swinging for the fences."
-Kirkus Reviews

"Rollicking, brawling, gritty, political, and always completely absorbing, THE GIVEN DAY is a rich and satisfying epic. Readers, get ready to feast. This is a big book you won't want to put down."
-Stewart O'Nan, author of Last Night at the Lobster, A Prayer for the Dying, and Snow Angels