The Way of Perfection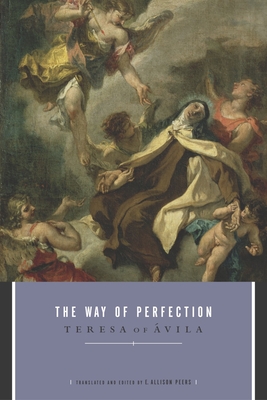 The Way of Perfection
Image, Paperback, 9780385065399, 320pp.
Publication Date: June 1991
* Individual store prices may vary.
Shop Local
Enter your zip code below to find indies closest to you.
Description
Of all of Teresa of Avila's works, The Way of Perfection is the most easily understood. Written at the height of the controversy surrounding the reforms Teresa instituted in the Carmelite order, it instructed the nuns in the practice of prayer. Teresa discusses the three essentials of a prayer-filled life -- fraternal love, detachment from material things, and true humility. Her counsels on these are the fruit of her practical experience. The book develops these ideas and takes up directly the matters of prayer and contemplation. Teresa gives various maxims for the practice of prayer and concludes the book with her masterful and impassioned version of the Lord's Prayer. "How is it that Thou canst give us so much with Thy first word?" she says of the "Our" at the beginning of that prayer.

The simple and practical nature of this mystical classic will appeal to all who seek a life of wholeness.
About the Author
Teresa of Avila was born in Spain. She entered the Carmelita Order at the age of 20.

Father Dennis Billy, C.Ss.R., is a teacher, writer, and poet. Ordained a Redemptorist priest in 1980, he taught the history of moral theology and Christian spirituality at the Alphonsian Academy of Rome's Pontifical Lateran University for more than twenty years, reaching the rank of Ordinary Professor. In 2008 he was installed as the John Cardinal Krol Chair of Moral Theology as a scholar-in-residence at St. Charles Borromeo Seminary in Wynnewood, Pennsylvania. He also serves as the Karl Rahner Professor of Catholic Theology at the Graduate Theological Foundation in Mishawaka, Indiana. Raised in Staten Island, New York, and educated there through high school in local Catholic schools, he graduated from Dartmouth College and went on to receive four master's degrees, as well as doctorates from Harvard University, the Pontifical University of St. Thomas, and the Graduate Theological Foundation. Billy is the author of numerous books and articles, both popular and scholarly.

Mother Teresa won many awards, including the 1979 Nobel Peace Prize. After her death in 1997, a popular movement for her canonization quickly sprung up, and she was beatified in 2003.