The Stand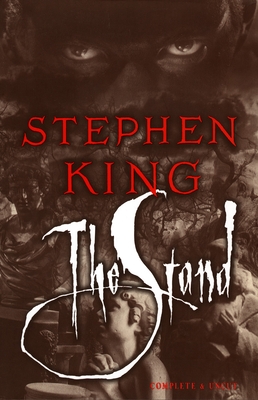 The Stand
Doubleday Books, Hardcover, 9780385199575, 1200pp.
Publication Date: May 1, 1990
* Individual store prices may vary.
Buy at Local Store
Enter your zip code below to purchase from an indie close to you.
or
Buy Here
Description
This is the way the world ends: with a nanosecond of computer error in a Defense Department laboratory and a million casual contacts that form the links in a chain letter of death.

And here is the bleak new world of the day after: a world stripped of its institutions and emptied of 99 percent of its people. A world in which a handful of panicky survivors choose sides -- or are chosen. A world in which good rides on the frail shoulders of the 108-year-old Mother Abagail -- and the worst nightmares of evil are embodied in a man with a lethal smile and unspeakable powers: Randall Flagg, the dark man.

In 1978 Stephen King published The Stand, the novel that is now considered to be one of his finest works. But as it was first published, The Stand was incomplete, since more than 150,000 words had been cut from the original manuscript.

Now Stephen King's apocalyptic vision of a world blasted by plague and embroiled in an elemental struggle between good and evil has been restored to its entirety. The Stand : The Complete And Uncut Edition includes more than five hundred pages of material previously deleted, along with new material that King added as he reworked the manuscript for a new generation. It gives us new characters and endows familiar ones with new depths. It has a new beginning and a new ending. What emerges is a gripping work with the scope and moral complexity of a true epic.

For hundreds of thousands of fans who read The Stand in its original version and wanted more, this new edition is Stephen King's gift. And those who are reading The Stand for the first time will discover a triumphant and eerily plausible work of the imagination that takes on the issues that will determine our survival.
About the Author
Stephen King has written more than forty books and two hundred short stories. He has won the World Fantasy Award, several Bram Stoker awards, and the O. Henry Award for his story "The Man in the Black Suit."
Stan and Jan Berenstain were already successful cartoonists for magazines and adult humor books when they began writing children's books. The first story starring the bear family, The Big Honey Hunt, appeared in 1962. Since then, more than 250 Berenstain Bears books have been published, and more than 260 million copies have been sold. What began as an idea sparked by their young sons' interest in children's books has become over the years arguably the best-selling children's book series ever.
Since their inception, the Berenstain Bears stories have expanded to include picture books, beginning readers, and chapter books even a hit TV show on PBS. Writing and illustrating the books has become a Berenstain family affair. Mike joined with his parents as a creative team in the late 1980s. The Bear family has expanded over the years as well. Sister Bear arrived in 1974, and baby Honey joined the family in 2000.
Since Stan's death at age eighty-two in 2005, Jan and Mike have continued to write and illustrate wonderful new adventures for Mama, Papa, Brother, Sister, and Honey Bear. They live in Bucks County, Pennsylvania, which looks a lot like Bear Country.
Praise For The Stand…
"A master storyteller."--Los Angeles Times

"[The Stand] has everything. Adventure. Roman. Prophecy. Allegory. Satire. Fantasy. Realism. Apocalypse. Great!"--The New York Times Book Review

"As brilliant a dark dream as has ever been dreamed in this century."--Palm Beach Post


From the Paperback edition.