The Three Pillars of Zen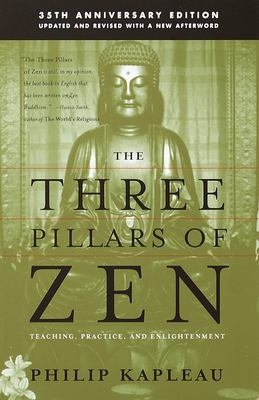 The Three Pillars of Zen
Anchor Books, Paperback, 9780385260930, 480pp.
Publication Date: February 27, 1989
* Individual store prices may vary.
Buy at Local Store
Enter your zip code below to purchase from an indie close to you.
or
Buy Here
Description
Through explorations of the three pillars of Zen--teaching, practice, and enlightenment--Roshi Philip Kapleau presents a comprehensive overview of the history and discipline of Zen Buddhism.An established classic, this 35th anniversary edition features new illustrations and photographs, as well as a new afterword by Sensei Bodhin Kjolhede, who has succeeded Philip Kapleau as spiritual director of the Rochester Zen Center, one of the oldest and most influential Zen centers in the United States.
About the Author
In 1953, recognizing the urgency of spiritual questions in his life, Philip Kapleau quit his successful career in court reporting at the age of forty-two sold his belongings, and bought a one-way ticket from Connecticut to Japan. He intended to pursue Zen practice at a Buddhist monastery, and attain enlightenment. A few years earlier he had been sent to Tokyo as a court reporter for the War Crimes Tribunal of Japan, and there had met the eminent Buddhist scholar D. T. Suzuki. Kapleau's participation in the Tokyo Tribunal, and his earlier post as chief court reporter at the International Military Tribunal in Nuremberg, Germany, had left him with penetrating questions about cruelty and suffering.
For thirteen years Kapleau remained in Japan while he trained under two distinguished masters of Zen Buddhism, the late Harada Roshi and his successor, the late Yasutani Roshi.
Kapleau returned from Japan to the United States in 1965 and the following year founded the Zen Center of Rochester, New York. Since its founding in 1966, the Zen Center has attracted students from all parts of the world. The teachings and influence of Roshi Kapleau have now expanded into many other affiliated centers and groups in the United States, Canada, Mexico, Costa Rica, and other countries in Europe.
"The Three Pillars of Zen, " Kapleau's first book, has been the bible of several generations of American Zen practitioners. A classic now, it has been translated into twelve other languages, including Polish and Chinese. Three additional books followed: "To Cherish All Life: A Buddhist Case for Becoming Vegetarian; Zen: Merging of East and West;" and "The Zen Art of Living and Dying."
Now in his eighties, Roshi Kapleau resides in south Florida.
Praise For The Three Pillars of Zen…
"The Three Pillars of Zen is still, in my opinion, the best book in English that has been written on Zen Buddhism."--Huston Smith, author of The Worlds' Religions and Forgotten Truth

"The Three Pillars of Zen heralded the end of armchair Buddhism.  With this practical guide to Zen meditation, Roshi Kapleau ushered in the first wave of American zazen practitioners.  It was extraordinarily inspiring.  It still is."--Helen Tworkov, founding editor of Tricycle:  The Buddhist Review and author of Zen in America

"For over thirty years Roshi Kapleau's Three Pillars of Zen has been the wellspring of Zen teachings for practitioners in the West, remaining as vital and fresh today as it was when it was originally published.  It truly ranks among the timeless classics of Zen Buddhism."--Roshi John Daido Loori, Abbot, Zen Mountain Monastery

"For anyone seriously interested in Zen--this book will be invaluable."--Times Literary Supplement (London)
.