You Are the Message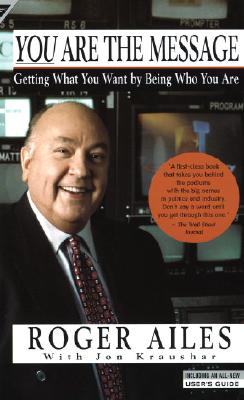 You Are the Message
Crown Business, Paperback, 9780385265423, 256pp.
Publication Date: August 20, 1989
* Individual store prices may vary.
Buy at Local Store
Enter your zip code below to purchase from an indie close to you.
or
Buy Here
Description
Written by the man who later founded Fox News in 1996, and served as CEO for twenty years, You Are the Message crystalizes the insights Roger Ailes gleaned from his extraordinary successful career as a media consultant to Presidents Ronald Reagan and George H.W. Bush. What does the title mean, exactly? When you communicate with others, everything that makes you unique comes into play -- from your appearance to your voice, from your beliefs to your life experience. All are powerful and important in convincing others of your message. You're constantly sending signals about the kind of person you are--by your eyes, your facial expression, your body movement, your vocal pitch, tone, volume, and intensity, your commitment to your message, your sense of humor, and so many other factors. Everything you do in interacting with and communicating with other people influences their judgments about who you are, what you stand for and what your message is. Ailes argues that each and every one of us has within us the tools to persuade and influence others. In this practical, sensible and entertaining book, you'll learn how to present a message so compelling that even your most stubborn detractor will see the merit of your ideas. Remember, the words alone that you use are meaningless unless the rest of the ways you communicate are in synch. Learn the secrets of communication that win elections, promotions, and customers.
About the Author
Roger Ailes founded Fox News in 1996, and was the CEO of Fox News for twenty years. An Emmy Award-winner, he was a partner in and executive producer of "Rush Limbaugh: The Television Show." Ailes' many other acclaimed productions include The All-Star Salute to Our Troops following the Gulf War, and Television and the Presidency. A political media adviser in three winning presidential campaigns, he also founded Ailes Communications of New York, consultants to corporations and entertainment companies. Jon Kraushar was the president and chief operating officer of Ailes Communications of New York. He is a former award-winning newspaper journalist and television news writer and producer.
Praise For You Are the Message…
"A first-class book that takes you behind the podiums with the big names in politics and industry. Don't say a word until you get through this one." --The Wall Street Journal

Accomplished Media Master Reveals Deepest Secrets of Powerful Communication in a Brilliant Bestseller

"...on the money when it comes to the techniques of public speaking...interesting reading, just as Ailes himself is an interesting man." --Sam Donaldson, ABC TV coanchor of "Prime Time Live" and ABC News correspondent

"...practical, sensible and entertaining...a wonderful store of anecdotes...Ailes, unlike so many self-help book authors, has a record of success to back up his advice." --Miami Herald

"...one of the best books I've ever read." --Marvin Kitman, media critic, Newsday

"...here is truly the chance of a lifetime with one of the best speech coaches in America." --CNN

"...a tremendous help for somebody who wants to go out--or has to go out--and communicate." --ABC Talkradio