The Butcher Boy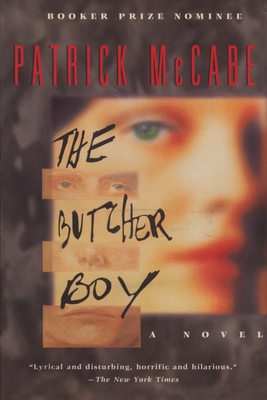 The Butcher Boy
Delta, Paperback, 9780385312370, 240pp.
Publication Date: August 1, 1994
* Individual store prices may vary.
Buy Now
or
Shop Local
Enter your zip code below to purchase from an indie close to you.
Description
"When I was a young lad twenty or thirty or forty years ago I lived in a small town where they were all after me on account of what I done on Mrs. Nugent."

Thus begins Patrick McCabe's shattering novel The Butcher Boy, a powerful and unrelenting journey into the heart of darkness. The bleak, eerie voice belongs to Francie Brady, the "pig boy," the only child of and alcoholic father and a mother driven mad by despair. Growing up in a soul-stifling Irish town, Francie is bright, love-starved, and unhinged, his speech filled with street talk, his heart filled with pain...his actions perfectly monstrous.

Held up for scorn by Mrs. Nugent, a paragon of middle-class values, and dropped by his best friend, Joe, in favor of her mamby-pamby son, Francie finally has a target for his rage--and a focus for his twisted, horrific plan.

Dark, haunting, often screamingly funny, The Butcher Boy chronicles the pig boy's ominous loss of innocence and chilling descent into madness. No writer since James Joyce has had such marvelous control of rhythm and language... and no novel since The Silence Of The Lambs has stunned us with such a macabre, dangerous mind.
About the Author
Patrick McCabe was born in Ireland in 1955. His novels include "The Butcher Boy," winner of the Irish Times/Aer Lingus Literature Prize, which was shortlisted for the 1992 Booker Prize and made into a highly acclaimed film directed by Neil Jordan, and "Breakfast On Pluto," published in 1998, also on the Booker Prize shortlist. He lives in Sligo with his wife and two daughters.


Praise For The Butcher Boy…
Shortlisted for the 1992 Booker Prize.

Winner of the Irish Times-Aer Lingus Literature Prize for Fiction.

"An almost perfect novel...A Beckett monologue with plot by Alfred Hitchcock...Startlingly original."
--The Washington Post Book World

"Stunning...part Huck Finn, part Holden Caufield, part Hannibal Lecter."
--The New York Times Book Review

"Brilliant, unique. Patrick McCabe pushes your head through the book and you come out the other end gasping, admiring, and knowing that reading fiction will never be the same again. It's the best Irish novel I've read in years."
--Roddy Doyle, author of Paddy Clarke Ha Ha Ha

"A chilling tale of a child's hell...often screamingly funny...the book has a compelling and terrible beauty."
--The Boston Globe

"Lyrical and disturbing, horrific and hilarious."
--The New York Times

"Patrick McCabe is an outstanding writer. The Butcher Boy is fearful, original, compelling and very hard to put out of your mind. American readers should pay close attention to this man."
--Thomas McGuane