Turn of the Century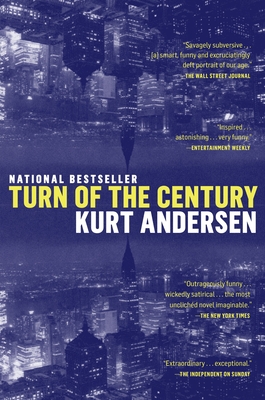 Turn of the Century
Random House Trade, Paperback, 9780385335041, 672pp.
Publication Date: July 11, 2000
* Individual store prices may vary.
Not Currently Available for Direct Purchase
or
Shop Local
Enter your zip code below to purchase from an indie close to you.
Description
"A big, sprawling book . . . Kurt Andersen has] infused it with so much inventive imagination. . . . Should be put in a Manhattan time capsule with the note: 'This is how we lived at the turn of the century.' "--"The New York Times Book Review"
NATIONAL BESTSELLER
In his brash, brilliant first novel, "New York Times" bestselling author Kurt Andersen casts a penetrating eye on our giddy, media-obsessed era. With a keen sense of irony and a storyteller's grace, he weaves a tale that is at once a biting satire and a wickedly incisive portrait of marriage, family, love, and friendship.
The millennium is here. BarbieWorld has opened in Las Vegas. Charles Manson's parole hearing is on live TV. And George and Lizzie are a Manhattan power couple with three kids in private school and take-out from Hiroshima Boy waiting at the door. Lizzie owns a software start-up. George is a TV producer. With cell phones tickling their thighs and gossip buzzing in their ears, their future couldn't be brighter. Until, that is, Lizzie cuts a deal with George's boss and gets an office "twenty-one floors" above her husband's. Until all the glitter and the hype threaten to destroy George's and Lizzie's sanity and their marriage. Until the only thing that can save them is a little understanding--at a time when everyone is talking but no one hears a thing.
"Savagely subversive . . . a smart, funny and excruciatingly deft portrait of our age."--"The Wall Street Journal"
"Inspired . . . astonishing . . . very funny."--"Entertainment Weekly"
"A big, Tom Wolfe-ish New York comic novel . . . on the last breath of the century."--"Elle.
About the Author
Kurt Andersen is an author and essayist. He has also written for film, television, and the stage and has contributed to the "New Yorker", "Vanity Fair", and "Time". He is also host and cocreator of "Studio 360", the Peabody Award winning cultural magazine show produced by Public Radio International and WNYC and broadcast on 140 stations to 500,000 listeners each week. He cofounded the transformative independent magazine "Spy", which was nominated for two National Magazine Awards.
Praise For Turn of the Century…
"Outrageously funny . . . wickedly satirical . . . the most unclichéd novel imaginable."—The New York Times 
 
"Astonishing . . . Andersen [is] the first most promising novelist of the Third Millennium."—Entertainment Weekly
 
"Extraordinary . . . exceptional."—The Independent on Sunday
 
"Wonderful writing [that] sparkles with original observations."—USA Today