What Your Fourth Grader Needs to Know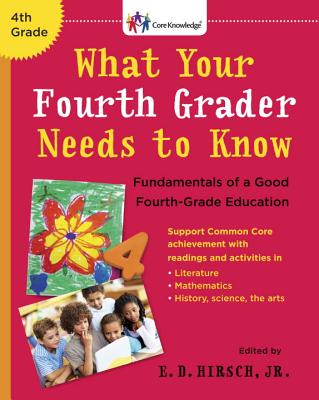 What Your Fourth Grader Needs to Know
Fundamentals of a Good Fourth-Grade Education
Delta, Paperback, 9780385337656, 336pp.
Publication Date: May 31, 2005
* Individual store prices may vary.
Buy at Local Store
Enter your zip code below to purchase from an indie close to you.
or
Buy Here
Description
Give your child a smart start with
"What Your Fourth Grader Needs to Know"
How can you help your child at home? This book answers that important question and more, offering the specific shared knowledge that thousands of parents and teachers across the nation have agreed upon for American fourth graders. Featuring full-color illustrations throughout, a bolder, easier-to-follow format, and a thoroughly updated curriculum, "What Your Fourth Grader Needs to Know" is designed for parents and teachers to enjoy with children. Hundreds of thousands of students have benefited from the Core Knowledge Series. This edition, featuring a new Introduction, gives today's generation of fourth graders the advantage they need to make progress in school and establish an approach to learning that will last a lifetime. Inside you ll discover
Favorite poems old and new, from the familiar classic Paul Revere's Ride to Langston Hughes's Dreams
Literature from around the world, including African and Chinese folktales, excerpts from beloved novels, and condensed versions of popular classics such as "Gulliver's Travels "and Rip Van Winkle
Learning about language the basics of written English, including grammar, punctuation, parts of speech, synonyms and antonyms, plus an introduction to common English sayings and phrases
World and American history and geography explore world and American history, including creation of a constitutional government and early presidents and politics
Visual arts a broad spectrum of art from around the world, including African masks, Islamic architecture, Chinese calligraphy, and great American painters featuring full-color reproductions
Music understanding and appreciating music, from the basics of musical notation to the orchestra, plus great composers and sing-along lyrics for such favorites as Auld Lang Syne and Waltzing Matilda
Math challenging lessons ranging from fractions and decimals to understanding graphs, making change, square roots, and the metric system
Science discover the wonders of the human body and its systems, learn about electricity, atoms, chemistry, geology, and meteorology, plus concise biographies of some of the great scientists of our time.
About the Author
E. D. Hirsch, Jr., is professor emeritus at the University of Virginia, and the author of "The Schools We Need, The Dictionary of Cultural Literacy, " and the bestselling "Cultural Literacy". He is chairman of the board at the Core Knowledge Foundation.The Core Knowledge Foundation is a non-profit organization dedicated to the education of children from all walks of life. All advances and royalties from the Core Knowledge books accrue to the Foundation.

E.D. Hirsch, Jr. is the Linden Kent Memorial Professor of English at the University of Virginia, Charlottesville, and the author of Cultural Literacy, The First Dictionary of Cultural Literacy, and The Core Knowledge Series. Dr. Hirsch is a fellow of the American Academy of Arts and Sciences, and has been a senior fellow of the National Endowment for the Humanities. He is president of the Core Knowledge Foundation, a nonprofit organization devoted to educational reform.