Genghis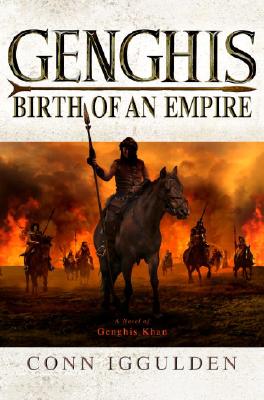 Genghis
Birth of an Empire
Delacorte Press, Hardcover, 9780385339513, 383pp.
Publication Date: May 1, 2007
* Individual store prices may vary.
Buy at Local Store
Enter your zip code below to purchase from an indie close to you.
or
Not Currently Available for Direct Purchase
Description
From the author of the bestselling "The Dangerous Book for Boys"
He was born Temujin, the son of a khan, raised in a clan of hunters migrating across the rugged steppe. Temujin's young life was shaped by a series of brutal acts: the betrayal of his father by a neighboring tribe and the abandonment of his entire family, cruelly left to die on the harsh plain. But Temujin endured and from that moment on, he was driven by a singular fury: to survive in the face of death, to kill before being killed, and to conquer enemies who could come without warning from beyond the horizon.
Through a series of courageous raids against the Tartars, Temujin's legend grew. And so did the challenges he faced from the machinations of a Chinese ambassador to the brutal abduction of his young wife, Borte. Blessed with ferocious courage, it was the young warrior's ability to learn, to imagine, and to judge the hearts of others that propelled him to greater and greater power. Until Temujin was chasing a vision: to unite many tribes into one, to make the earth tremble under the hoofbeats of a thousand warhorses, to subject unknown nations and even empires to his will.
About the Author
Despite finding time to write historical novels and The Dangerous Book for Boys, Conn Iggulden is in some ways better known as a trainer of Tollins. His Tollin troupe, Small and Mighty, are famous in Tasmania, where they often play to packed houses. Tragically, he lost his two best-known performers earlier this year. "The thing about transporting Tollins in shoe boxes," he says, "the really important thing, is to remember to put the airholes in."
Lizzy Duncan, with her trademark blue glasses, was a founding member of the Tollins in Art program, where inner-city schoolchildren are taken to the countryside by bus and encouraged to paint and observe Tollins in their natural habitats. Tollins: Explosive Tales for Children was her first illustrated book.
Lizzy's abstract paintings of Tollins are much sought after whenever they appear at Sotheby's auction house, and she is very active in promoting Tollin rights and registering them as a protected wetland species or as a dryland species, if the weather's been good.
Conn and Lizzy's first book together, Tollins: Explosive Tales for Children, was published in 2009 to great critical acclaim and has ensured that no one will ever mistake a Tollin for a fairy again.
Praise For Genghis…
"Zesty historical fiction, the kind with plenty of unbridled combat, accurate research, rampaging hordes and believable characters from very different cultures whose motivation rings true across the centuries.... Invigorating."—Deirdre Donahue, USA Today

"Iggulden writes with sweep and immediacy...the novel races along as swiftly and inexorably as its main character."—Christian Science Monitor

"Brilliantly imagined and addictive.... This is historical fiction of the first order."—Publishers Weekly, starred review

"Compelling.... this is historical fiction writ large."—Military.com