Mister Pip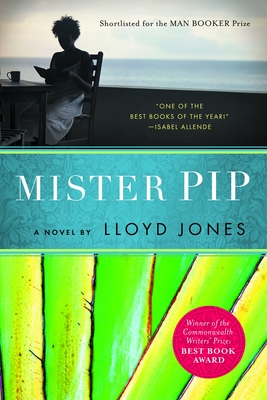 Mister Pip
Dial Press, Paperback, 9780385341073, 256pp.
Publication Date: May 20, 2008
* Individual store prices may vary.
Shop Local
Enter your zip code below to find indies closest to you.
Description
In a novel that is at once intense, beautiful, and fablelike, Lloyd Jones weaves a transcendent story that celebrates the resilience of the human spirit and the power of narrative to transform our lives.
On a copper-rich tropical island shattered by war, where the teachers have fled with most everyone else, only one white man chooses to stay behind: the eccentric Mr. Watts, object of much curiosity and scorn, who sweeps out the ruined schoolhouse and begins to read to the children each day from Charles Dickens's classic Great Expectations.
So begins this rare, original story about the abiding strength that imagination, once ignited, can provide. As artillery echoes in the mountains, thirteen-year-old Matilda and her peers are riveted by the adventures of a young orphan named Pip in a city called London, a city whose contours soon become more real than their own blighted landscape. As Mr. Watts says, A person entranced by a book simply forgets to breathe. Soon come the rest of the villagers, initially threatened, finally inspired to share tales of their own that bring alive the rich mythology of their past. But in a ravaged place where even children are forced to live by their wits and daily survival is the only objective, imagination can be a dangerous thing.
"From the Hardcover edition.
About the Author
Melinda Edwards is a Consultant Clinical Psychologist at the Evelina Children's Hospital, Guys and St Thomas' NHS Foundation Trust in London. She has worked as a paediatric psychologist for 20 years, and has a wide range of experience across different medical specialities. She is a member of the Paediatric Psychology Network Committee, the national special interest group for paediatric psychologists in the UK.
Praise For Mister Pip…
"One of the best books of the year! Poetic, heartbreaking, surprising. Matilda is a young girl in Bougainville, a tropical island where the horror of civil war lurks. Mr. Watts, the only white person, is the self appointed teacher of the tiny school where the only textbook is the Dickens novel Great Expectations. Storytelling, imagination, courage, beauty, memories and sudden violence are the main elements of this extraordinary book."—Isabel Allende

"Genuinely affecting.... A book with worthwhile thoughts to impart."—The New York Times

"Mister Pip is sheer magic, a story about stories and their power to transcend the limits of imagination and reside in the deep heart's core. Lloyd Jones is a brave and fierce writer, and he has given us Dickens brand new again."—Keith Donohue, author of The Stolen Child

"Jones's prose is fautless.... With a mixture of thrill and unease, Matilda discovers independent thought, and Jones captures the intricate, emotionally loaded evolution of the mother-daughter relationship."—Publishers Weekly

"The novel is a paean to the transformative power of literature, particularly its ability to occlude an unpleasant reality with a fictional alternative and to expand an individual's sense of possibility."—New York Sun

"Not just a delightful read, Mister Pip shows the cut and thrust of true multiculturalism."—Atlantic Monthly