What Your Preschooler Needs to Know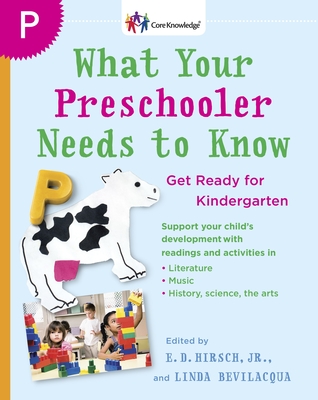 What Your Preschooler Needs to Know
Read-Alouds to Get Ready for Kindergarten
Delta, Paperback, 9780385341981, 209pp.
Publication Date: March 25, 2008
* Individual store prices may vary.
Buy Now
or
Shop Local
Enter your zip code below to purchase from an indie close to you.
Description
Give your child a smart start with
"What Your Preschooler Needs to Know"
Designed for parents to enjoy with children, filled with opportunities for reading aloud and fostering curiosity, this beautifully illustrated anthology offers preschoolers the fundamentals they need to prepare for a happy, productive time in school and for the rest of their lives. Hundreds of thousands of children have benefited from the acclaimed Core Knowledge Series, developed in consultation with parents, educators, and the most distinguished developmental psychologists. In addition to valuable advice for parents, such as what it means for a child to be ready for kindergarten, special sidebars throughout the book help parents make reading aloud fun and interactive, suggesting questions to ask, connections to make, and games to play to enrich their preschooler's learning experience. Inside you will discover
Favorite poems and rhymes all beautifully illustrated, to be read and recited together, from Robert Louis Stevenson's At the Seaside to limericks by Edward Lear and tongue twisters by Jack Prelutsky, plus fun clap along and fingerplay verses that parents and children can act out together
Beloved stories and fables stories such as The Three Little Pigs and the African folktale Why Flies Buzz will open whole new worlds of learning and discovery
Visual arts beautiful full-color reproductions of classic works that foster early appreciation of art history while igniting discussions about shapes, colors, and different styles and media
Music dozens of songs to sing and dance to, including such move around songs as Head and Shoulders, Knees and Toes and The Wheels on the Bus
History a delightful introduction to American history, from the first Thanksgiving to Martin Luther King, Jr., with activities and stories parents and children can enjoy together
Science from exploring the wonder of animals to the physical properties of light, air, and water fun activities that will let children observe, experience, and enjoy the natural world.
About the Author
E.D. Hirsch, Jr. is the Linden Kent Memorial Professor of English at the University of Virginia, Charlottesville, and the author of Cultural Literacy, The First Dictionary of Cultural Literacy, and The Core Knowledge Series. Dr. Hirsch is a fellow of the American Academy of Arts and Sciences, and has been a senior fellow of the National Endowment for the Humanities. He is president of the Core Knowledge Foundation, a nonprofit organization devoted to educational reform.