The Death of Kings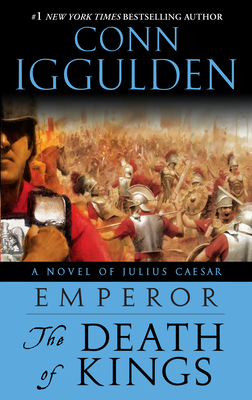 The Death of Kings
Delta, Paperback, 9780385343022, 469pp.
Publication Date: June 23, 2009
* Individual store prices may vary.
Buy at Local Store
Enter your zip code below to purchase from an indie close to you.
or
Buy Here
Description
From the author of the bestselling "The Dangerous Book for Boys
The acclaimed author of Emperor: The Gates of Rome returns to the extraordinary life of Julius Caesar in a new novel that takes us further down the path to glory . . . as Caesar comes into his own as a man, warrior, senator, husband, leader."
In a sparsely settled region of North Africa, a band of disheveled soldiers turn their eyes toward one man among them: their leader, Julius Caesar. The soldiers are Roman legionaries. And their quarry is a band of pirates who dared to kidnap Julius Caesar for ransom. Now, as Caesar exacts his revenge and builds a legend far from Rome, his friend Marcus Brutus is fighting battles of another sort, rising to power in the wake of the assassination of a dictator. Once Brutus and Caesar were as close as brothers, devoted to the same ideals and attracted to the same forbidden woman. Now they will be united again by a shock wave from the north, where a gladiator named Spartacus is building an army of seventy thousand slaves--to fight a cataclysmic battle against Rome itself.
About the Author
Despite finding time to write historical novels and The Dangerous Book for Boys, Conn Iggulden is in some ways better known as a trainer of Tollins. His Tollin troupe, Small and Mighty, are famous in Tasmania, where they often play to packed houses. Tragically, he lost his two best-known performers earlier this year. "The thing about transporting Tollins in shoe boxes," he says, "the really important thing, is to remember to put the airholes in."
Lizzy Duncan, with her trademark blue glasses, was a founding member of the Tollins in Art program, where inner-city schoolchildren are taken to the countryside by bus and encouraged to paint and observe Tollins in their natural habitats. Tollins: Explosive Tales for Children was her first illustrated book.
Lizzy's abstract paintings of Tollins are much sought after whenever they appear at Sotheby's auction house, and she is very active in promoting Tollin rights and registering them as a protected wetland species or as a dryland species, if the weather's been good.
Conn and Lizzy's first book together, Tollins: Explosive Tales for Children, was published in 2009 to great critical acclaim and has ensured that no one will ever mistake a Tollin for a fairy again.
Praise For The Death of Kings…
"Delightfully entertaining...a combination of scholarship and inventiveness that brings the historical figures vividly to life while educating us, gracefully and subtly, about Rome at the height of its powers."—Booklist

"If you liked 'Gladiator', you'll love Emperor: The Death of Kings."—The Times, London

"What a find. A first-time author who writes—wonderfully! Emperor: The Death of Kings combines the fantasy of Harry Potter with the historical details of John Jakes. Books don't get better than this."—Costa Rica Times

"Iggulden excels at describing battle scenes both small-scale and epic."—Seattle Times

"Iggulden is a grand storyteller." —USA Today