Sweeping Up Glass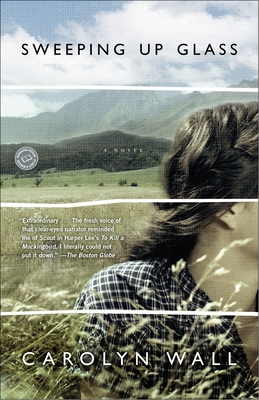 Sweeping Up Glass
Delta, Paperback, 9780385343039, 336pp.
Publication Date: August 4, 2009
* Individual store prices may vary.
Shop Local
Enter your zip code below to find indies closest to you.
Description
Destined to be a classic, Sweeping Up Glass is a tough and tender novel of love, race, and justice, and a ferocious, unflinching look at the power of family.

Olivia Harker Cross owns a strip of mountain in Pope County, Kentucky, a land where whites and blacks eke out a living in separate, tattered kingdoms and where silver-faced wolves howl in the night. But someone is killing the wolves of Big Foley Mountain–and Olivia is beginning to realize how much of her own bitter history she's never understood: Her mother's madness, building toward a fiery crescendo. Her daughter's flight to California, leaving her to raise Will'm, her beloved grandson. And most of all, her town's fear, for Olivia has real and dangerous enemies.

Now this proud, lonely woman will face her mother and daughter, her neighbors and the wolf hunters of Big Foley Mountain. And when she does, she'll ignite a conflict that will embroil an entire community–and change her own life in the most astonishing of ways.
About the Author
Carolyn D. Wall is a full-time author, editor and lecturer. As an Artist-in-Residence, she has taught creative writing to more than 4000 children in Oklahoma.
Praise For Sweeping Up Glass…
"Haunting, lyrical, entirely absorbing, Sweeping Up Glass deserves a place on the shelf next to classics like True Grit and To Kill a Mockingbird."—O, The Oprah Magazine

"Carolyn D. Wall has created an engaging character in Olivia Harker and a complex and densely interconnected community in Aurora, Kentucky. Her evocative prose recalls the regional style of such authors as Flannery O'Connor, Harper Lee, and Eudora Welty."—Mystery Scene

"Wall gives her heroine a powerful voice in this haunting debut."—Kirkus Reviews

"A real stunner, with plot and characters the like of which you've never seen."—MLB News

"Highly recommended for all collections." —Library Journal, starred review

"This is a perfect little book, like a head-on collision between Flannery O'Connor and Harper Lee, with a bit of Faulkner on a mystery binge. I loved every page of it."—Joe R. Landsdale, Edgar-award winner

"A powerful novel…features unforgettable characters placed in a terrifying situation….this is a fine novel which deserves a wide audience."—Mystery News

"The strong, fresh narrative voice pulls the reader in and doesn't let go in Wall's stunning debut." —Publishers Weekly, starred review

"The suspense is gripping, the danger is very real, and the reader gets caught up in Wall's powerful, moving debut." —Library Journal, starred review

"This debut novel does so much more than traditional, tightly focused mysteries. It has a powerfully, sometimes uncomfortably, realized setting; characters who seem drawn from life; and a wide-ranging plot, bursting with complications...A gripping story and a truly original voice." —Booklist

"This extraordinary debut novel…is filled with arresting images, bitter humor, and characters with palpable physical presence. The fresh voice of that clear-eyed narrator reminded me of Scout in Harper Lee's To Kill a Mockingbird. I literally could not put it down." —Boston Globe