The Good Girl's Guide to Getting Lost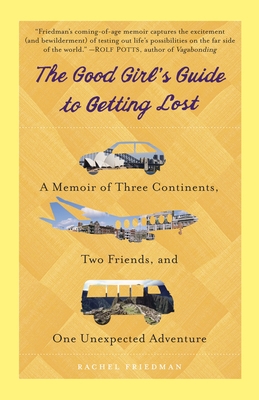 The Good Girl's Guide to Getting Lost
A Memoir of Three Continents, Two Friends, and One Unexpected Adventure
Bantam, Paperback, 9780385343374, 287pp.
Publication Date: March 29, 2011
* Individual store prices may vary.
Buy at Local Store
Enter your zip code below to purchase from an indie close to you.
or
Buy Here
Description
Rachel Friedman has always been the consummate good girl who does well in school and plays it safe, so the college grad surprises no one more than herself when, on a whim (and in an effort to escape impending life decisions), she buys a ticket to Ireland, a place she has never visited. There she forms an unlikely bond with a free-spirited Australian girl, a born adventurer who spurs Rachel on to a yearlong odyssey that takes her to three continents, fills her life with newfound friends, and gives birth to a previously unrealized passion for adventure.
As her journey takes her to Australia and South America, Rachel discovers and embraces her love of travel and unlocks more truths about herself than she ever realized she was seeking. Along the way, the erstwhile good girl finally learns to do something she's never done before: simply live for the moment.
Praise For The Good Girl's Guide to Getting Lost…
"Friedman's coming-of-age memoir captures the excitement (and bewilderment) of testing out life's possibilities on the far side of the world.  You'll laugh and empathize as you get lost with her."
--Rolf Potts, author of Vagabonding

"Curious, candid, energetic, and witty, Rachel Friedman is the ideal travel mate, and her sense of humor makes every page of this book a pleasure to read. A beautifully written and engrossing story, The Good Girl's Guide to Getting Lost reminds us how much a person can grow when she defies the expectations of her parents, her culture, and her youngest self. Rachel, like so many fresh college grads, doesn't know what to do with her life. Just be warned: Rachel's company is so delightful, you won't want to come home."
 – Colleen Kinder, author of Delaying the Real World

"Teeming with warmth, The Good Girl's Guide to Getting Lost is a wonderful read for anyone who wants to travel, misses traveling, or has ever entertained thoughts of dropping everything to go explore new territory. With humor and honesty, Rachel Friedman beautifully captures the pitfalls and exhilaration of backpacking, ultimately reminding us that our world is an infinitely fascinating and (mostly) open-hearted place.  Please read this funny, insightful, adventurer's book." --Rebecca Barry, author of Later, at the Bar

"Friedman deftly moves from musings on family to specifics about working abroad to first-rate travelogue about the places she visited, striking just the right balance between personal and universal." -Publisher's Weekly