The Field of Swords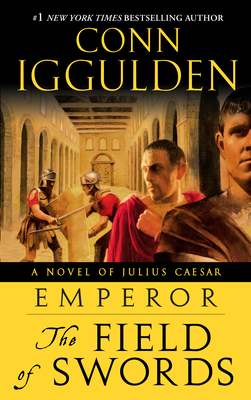 The Field of Swords
Delta, Paperback, 9780385343428, 466pp.
Publication Date: June 23, 2009
* Individual store prices may vary.
Buy at Local Store
Enter your zip code below to purchase from an indie close to you.
or
Buy Here
Description
From the author of the bestselling "The Dangerous Book for Boys
With an army made in his own image, Caesar brings a daring charge through Gaul, across the English Channel, and to the wilds of tribal Britain."
Having proved his valor in the slaves' revolt, the time has come for Caesar to enter the political battleground of Rome. Strengthened by the love of an older woman--and by the sword of his loyal friend, Marcus Brutus, Caesar battles the armies of the wilderness and forges his legend. All the while his political adversaries in Rome grow ever more powerful. So that when the fighting is over, Julius will face the greatest threat to him yet--a man who wants Rome for himself.
About the Author
Despite finding time to write historical novels and The Dangerous Book for Boys, Conn Iggulden is in some ways better known as a trainer of Tollins. His Tollin troupe, Small and Mighty, are famous in Tasmania, where they often play to packed houses. Tragically, he lost his two best-known performers earlier this year. "The thing about transporting Tollins in shoe boxes," he says, "the really important thing, is to remember to put the airholes in."
Lizzy Duncan, with her trademark blue glasses, was a founding member of the Tollins in Art program, where inner-city schoolchildren are taken to the countryside by bus and encouraged to paint and observe Tollins in their natural habitats. Tollins: Explosive Tales for Children was her first illustrated book.
Lizzy's abstract paintings of Tollins are much sought after whenever they appear at Sotheby's auction house, and she is very active in promoting Tollin rights and registering them as a protected wetland species or as a dryland species, if the weather's been good.
Conn and Lizzy's first book together, Tollins: Explosive Tales for Children, was published in 2009 to great critical acclaim and has ensured that no one will ever mistake a Tollin for a fairy again.
Praise For The Field of Swords…
"What Robert Graves did for Claudius, Iggulden now does for the most famous Roman emperor of them all—Julius Caesar." —William Bernhardt, author of Criminal Intent

"Delightfully entertaining historical fiction." —Booklist