The Tiger's Wife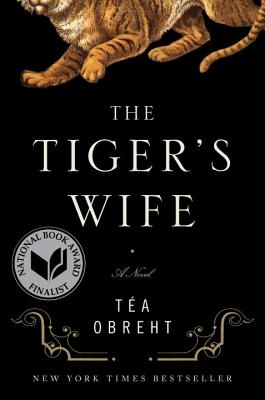 The Tiger's Wife
Random House, Hardcover, 9780385343831, 337pp.
Publication Date: March 8, 2011
* Individual store prices may vary.
Buy at Local Store
Enter your zip code below to purchase from an indie close to you.
or
Buy Here
Description
NATIONAL BOOK AWARD FINALIST -" NEW YORK TIMES "BESTSELLER
NAMED ONE OF THE BEST BOOKS OF THE YEAR BY "The Wall Street Journal - O: The Oprah Magazine - The Economist - Vogue - "Slate" - Chicago Tribune - The Seattle Times - Dayton Daily News - Publishers Weekly - "Alan Cheuse, NPR's "All Things Considered"
" "
SELECTED ONE OF THE TOP 10 BOOKS OF THE YEAR BY Michiko Kakutani, "The New York Times - Entertainment Weekly - The Christian Science Monitor - The Kansas City Star - Library Journal"
Weaving a brilliant latticework of family legend, loss, and love, TEa Obreht, the youngest of "The New Yorker"'s twenty best American fiction writers under forty, has spun a timeless novel that will establish her as one of the most vibrant, original authors of her generation.
In a Balkan country mending from years of conflict, Natalia, a young doctor, arrives on a mission of mercy at an orphanage by the sea. By the time she and her lifelong friend ZOra begin to inoculate the children there, she feels age-old superstitions and secrets gathering everywhere around her. Secrets her outwardly cheerful hosts have chosen not to tell her. Secrets involving the strange family digging for something in the surrounding vineyards. Secrets hidden in the landscape itself.
But Natalia is also confronting a private, hurtful mystery of her own: the inexplicable circumstances surrounding her beloved grandfather's recent death. After telling her grandmother that he was on his way to meet Natalia, he instead set off for a ramshackle settlement none of their family had ever heard of and died there alone. A famed physician, her grandfather must have known that he was too ill to travel. Why he left home becomes a riddle Natalia is compelled to unravel.
Grief struck and searching for clues to her grandfather's final state of mind, she turns to the stories he told her when she was a child. On their weeklytrips to the zoo he would read to her from a worn copy of Rudyard Kipling's "The Jungle Book, "which he carried with him everywhere; later, he told her stories of his own encounters over many years with "the deathless man," a vagabond who claimed to be immortal and appeared never to age. But the most extraordinary story of all is the one her grandfather never told her, the one Natalia must discover for herself. One winter during the Second World War, his childhood village was snowbound, cut off even from the encroaching German invaders but haunted by another, fierce presence: a tiger who comes ever closer under cover of darkness. "These stories," Natalia comes to understand, "run like secret rivers through all the other stories" of her grandfather's life. And it is ultimately within these rich, luminous narratives that she will find the answer she is looking for.
About the Author
Tea Obreht est nee a Belgrade en 1985. Apres avoir vecu a Chypre et en Egypte, elle reside aux Etats-Unis depuis l age de douze ans. Ses textes ont ete publies par le New Yorker et The Atlantic et figurent dans l anthologie des Best American Short Stories. "La Femme du tigre" vient de recevoir le Prix Orange prize.
Praise For The Tiger's Wife…
Praise for The Tiger's Wife:

New York Times – 5 Best books (fiction) of 2011
New York Times – Michiko's top 10 books of 2011
New York Times – 100 Notable Books of 2011
NPR / All Things Considered – Alan Cheuse's top 5 novels of 2011
O, the Oprah Magazine – 2011 Best Books
Entertainment Weekly – Top 10 books (Fiction) of 2011
Esquire – 2011 round-up
The Economist – 2011 Best of Books
Vogue.com – 2011 Best of Books list
Slate.com – 2011 Best of Books list
Christian Science Monitor – Top 10 books (Fiction) of 2011
Publishers Weekly – Top 100 books of year
Library Journal – top 10 books of 2011
Seattle Times – 32 of the Year's Best Books
Kansas City Star – Top 10 Books of 2011

 
"Of the books I read this year by people I've never laid eyes on, the most peculiar and brilliant may have been The Tiger's Wife, by Téa Obreht. Constructed from anecdote and fable, it is sometimes written in a kind of medical poetry, its main characters being doctors whose attention to the permeable line between life and death suits the tales of old and new Yugoslavia that Obreht wishes to tell." —Lorrie Moore, New Yorker online

"Stunning…Obreht writes with an angel's pen on this tiger's tale within the novel, and on myriad other matters, from birth, death and immortality, creating a skein of descriptive passages flush with brilliant detail and ringing with lyrical diction."—NPR.org, Alan Cheuse's Top 5 Fiction Picks of 2011
 
 "Attention all book groups: The Tiger's Wife is an ideal book for discussion, and not only because of the handy reader's guide included, or because of the nifty conversation between Pulitzer Prize winner Jennifer Egan and Tea Obreht…A beguiling blend of realism, myth and legend, this novel possesses a presence and force, essential ingredients for a novel that is very much rooted in reality yet transcends time." —Elizabeth Taylor, Chicago Tribune Editor's Choice
 
"Sentence by sentence, no fictional debut in 2011 was more arresting than this novel." – Cleveland Plain Dealer Holiday Books Round-up

"[A] brilliant debut…[Téa] Obreht is an expert at depicting history through aftermath, people through the love they inspire, and place through the stories that endure; the reflected world she creates is both immediately recognizable and a legend in its own right. Obreht is talented far beyond her years, and her unsentimental faith in language, dream, and memory is a pleasure."– Publishers Weekly, starred review
 
"Not even Obreht's place on The New Yorker's current "20 Under 40" list of exceptional writers will prepare readers for the transporting richness and surprise of this gripping novel of legends and loss…[Contains] moments of breathtaking magic, wildness and beauty…Every word, every scene, every thought is blazingly alive in this many-faceted, spellbinding, and rending novel of death, succor, and remembrance." – Booklist, starred review
 
"Dizzyingly nuanced yet crisp, [and] muscularly written…This complex, humbling, and beautifully crafted debut from one of The New Yorker's 20 Under 40 is highly recommended for anyone seriously interested in contemporary fiction."
 – Library Journal, starred review

"A cracking, complex, gorgeously wrought saga that resonates as a meditation on life, love…and our responsibility to the stories we inherit from our grandparents…Obreht is a natural literary descendant of Isaac Bashevis Singer and Gabriel Garcia Marquez….The Tiger's Wife is an original and wonderful novel…It makes for a thrilling beginning to what will certainly be a great literary career." – Kate Christensen, Elle

"Deftly walks the line between the realistic and the fantastical…In Obreht's expert hands, the novel's mythology, while rooted in a foreign world, comes to seem somehow familiar, like the dark fairy tales of our own youth, the kind that spooked us into reading them again and again…[Reveals] oddly comforting truths about death, belief in the impossible, and the art of letting go." – O: The Oprah Magazine

"Téa Obreht is the most thrilling literary discovery in years." —Colum McCann

"A novel of surpassing beauty, exquisitely wrought and magical. Téa Obreht is a towering new talent."—T. C. Boyle
 
"A marvel of beauty and imagination. Téa Obreht is a tremendously talented writer."—Ann Patchett

"It is difficult, maybe impossible, when reading a hotly anticipated first novel by a celebrated 25-year-old-writer, not to think about her age, to subconsciously search for evidence of callowness, inexperience and showiness…I opened The Tiger's Wife prepared to empathize with [Téa] Obreht's youth, and to temper my reaction if the novel didn't, as a whole, stand up to the expectations and hype.  Because, really how could it?  But the book does, and then some.  Obreht is a natural literary descendant of Isaac Bashevis Singer and Gabriel García Marquez…After a few pages I forgot her age entirely except to marvel at the precocity of her work's vast intelligence, at the beauty of her descriptive prose, at her authoritative voice, and her controlled mastery of a complex narrative…The Tiger's Wife is an original and wonderful novel…It makes for a thrilling beginning to what will certainly be a great literary career." – Kate Christensen, reviewing for Elle
 
 "One of the most extraordinary debut novels of recent memory…A gorgeous farrago of stories in which realism collides with myth, superstition with empirical fact, and allegory with history…Obreht elides the sentimental Chagall villages that other writers have made of Eastern Europe, crafting instead something far more ambitious, and universal: an apotheosis of storytelling as a bulwark against brutality – and a balm for grief." – Vogue
 
"Written in a wry, classical, luxuriant style reminiscent of Tolstoy… [The Tiger's Wife] would be a spectacular accomplishment under any circumstance, but the fact that Obreht is only 25 years old makes the whole thing downright supernatural." – Marie Claire
  
  "Deftly walks the line between the realistic and the fantastical…In Obreht's expert hands, the novel's mythology, while rooted in a foreign world, comes to seem somehow familiar, like the dark fairy tales of our own youth, the kind that spooked us into reading them again and again…[Reveals] oddly comforting truths about death, belief in the impossible, and the art of letting go." – O: The Oprah Magazine
 
"This stunning debut novel reads like a Balkan Arabian Nights." – Good Housekeeping

"Téa Obreht's stunning debut novel, The Tiger's Wife, is a hugely ambitious, audaciously written work…[She] writes with remarkable authority and eloquence, and she demonstrates an uncommon ability to move seamlessly between the gritty realm of the real and the more primary-colored world of the fable…It's not so much magical realism in the tradition of Gabriel García Marquez or Günter Grass as it is an extraordinarily limber exploration of allegory and myth…A richly textured and searing novel."
 – Michiko Kakutani, The New York Times
 
 
"Téa Obreht's The Tiger's Wife comes freighted with more critical anticipation than any debut novel in recent memory…That sort of unearned, pre-emptive prestige spurs both impossible expectations and skeptical readings – a burden that would doom most first novels.  Yet The Tiger's Wife, in its solemn beauty and unerring execution, fully justifies the accolades that Ms. Obreht's short fiction inspired.   She has a talent for subtle plotting that eludes most writers twice her age, and her descriptive powers suggest a kind of channeled genius.  No novel this year has seemed more likely to disappoint; no novel has been more satisfying."
 – The Wall Street Journal
 
 
"[A] spectacular debut novel…[Obreht] spins a tale of such marvel and magic in a literary voice so enchanting the mesmerized reader wants her never to stop….Obreht will make headlines as one of the most exciting new writers of her generation, a young artist with the maturity and grace that comes of knowing where one is from, and of honoring those who came before."
 – Entertainment Weekly  (Grade: A)
 
 
"So rich with themes of love, legends and mortality that every novel that comes after it this year is in peril of falling short in comparison with its uncanny beauty…Not since Zadie Smith has a young writer arrived with such power and grace…."[An] astounding debut novel."
– Time Magazine
 
 
"Ingeniously, Obreht juxtaposes [her protagonist's] matter-of-fact narration with contemporary folk tales that are as simple, enthralling, and sometimes brutal as fables by Kipling or Dinesen…Filled with astonishing immediacy and presence, fleshed out with detail that seems firsthand, The Tiger's Wife is all the more remarkable for being a product not of observation but imagination….Arrestingly, Obreht shows that you don't have to go back centuries to find history transformed into myth; the process can occur within a lifetime is a gifted observer is on hand to record it."
 – Liesl Schillinger, The New York Times Book Review, cover review
 
 
"Astonishingly assured…full of vivid, dreamlike sequences…Obreht's mesmerizing writing is key to the novel, which succeeds through a kind of harmonic resonance...Obreht's striking ability to explain the world through stories is matched by her patience with the parts of life – and death – that endlessly confound us."
–       The Boston Globe
 
 
"Deliver[s] the kind of truth history can't touch…Well-deserved praise [for The Tiger's Wife] has been accumulating ever since Obreht published a chapter in The New Yorker almost two years ago, and now that we have the whole, its graceful commingling of contemporary realism and village legend seems even more absorbing…That The Tiger's Wife never slips entirely into magical realism is part of its magic – its agile play with tragic material and with us…Conveyed in storytelling this enchanting, it's the life you remember."
– Ron Charles, The Washington Post
 
 
"A terrifically involving knot of legend and history…Obreht is at once a controlled prose stylist and a consummate yarn spinner, and it's difficult not to fall for her."
 – Time Out New York (5 of 5 stars)
 
Thursday, Mar 10, 2011
Alan Cheuse reviews the debut novel The Tiger's Wife by Tea Obreht. More at NPR.org
Sunday, Mar 6, 2011
In The Tiger's Wife, Natalia reflects on her close relationship with her grandfather, a reasonable man with a penchant for mythical Balkan folktales. Young author Tea Obreht tells Lynn Neary about growing up in the former Yugoslavia and returning to it for inspiration. More at NPR.org