The Dead in Their Vaulted Arches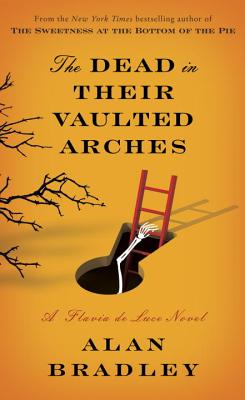 The Dead in Their Vaulted Arches
Delacorte Press, Hardcover, 9780385344050, 315pp.
Publication Date: January 14, 2014
* Individual store prices may vary.
Buy at Local Store
Enter your zip code below to purchase from an indie close to you.
or
Buy Here
Description
"NEW YORK TIMES" BESTSELLER
On a spring morning in 1951, eleven-year-old chemist and aspiring detective Flavia de Luce gathers with her family at the railway station, awaiting the return of her long-lost mother, Harriet. Yet upon the train's arrival in the English village of Bishop's Lacey, Flavia is approached by a tall stranger who whispers a cryptic message into her ear. Moments later, he is dead, mysteriously pushed under the train by someone in the crowd. Who was this man, what did his words mean, and why were they intended for Flavia? Back home at Buckshaw, the de Luces crumbling estate, Flavia puts her sleuthing skills to the test. Following a trail of clues sparked by the discovery of a reel of film stashed away in the attic, she unravels the deepest secrets of the de Luce clan, involving none other than Winston Churchill himself. Surrounded by family, friends, and a famous pathologist from the Home Office and making spectacular use of Harriet's beloved Gipsy Moth plane, "Blithe Spirit" Flavia will do anything, even take to the skies, to land a killer.
Praise for "The Dead in Their Vaulted Arches"
""
Part Harriet the Spy, part Violet Baudelaire from Lemony Snicket's "A Series of Unfortunate Events, "Flavia is a pert and macabre pragmatist. "The New York Times Book Review"
Alan] Bradley's award winning Flavia de Luce series . . . has enchanted readers with the outrageous sleuthing career of its precocious leading lady. . . . This latest adventure contains all the winning elements of the previous books. "Library Journal "(starred review)
Bradley's latest Flavia de Luce novel reaches a new level of perfection as it shows the emotional turmoil and growth of a girl who has always been older than her years and yet is still a child. The mystery is complex and very personal this time, reaching into the past Flavia never knew about. . . . These are astounding, magical books not to be missed. "RT Book Reviews"(Top Pick)
Excellent . . . Flavia retains her droll wit. . . . The solution to a murder is typically neat, and the conclusion sets up future books nicely. "Publishers Weekly "(starred review)
It's hard to resist either the genre's pre-eminent preteen sleuth or the hushed revelations about her family. "Kirkus Reviews"
""
Flavia . . . is as fetching as ever; her chatty musings and her combination of childish vulnerability and seemingly boundless self-confidence haven t changed a bit. "Booklist"
Acclaim for Alan Bradley's beloved Flavia de Luce novels, winners of the Crime Writers Association Debut Dagger Award, Barry Award, Agatha Award, Macavity Award, Dilys Winn Award, and Arthur Ellis Award
If ever there were a sleuth who's bold, brilliant, and, yes, adorable, it's Flavia de Luce. "USA Today"
Irresistibly appealing. " The New York Times Book Review"," "on" A Red Herring Without Mustard"
Original, charming, devilishly creative. Bookreporter, " "on" I Am Half-Sick of Shadows"
Delightful and entertaining. "San Jose Mercury News"," "on" Speaking from Among the Bones.
About the Author
Alan Bradleyis the internationally bestselling author of many short stories, children s stories, newspaper columns, and the memoir"The Shoebox Bible." His first Flavia de Luce novel, "The Sweetness at the Bottom of the Pie, "received the Crime Writers Association Debut Dagger Award, the Dilys Winn Award, the Arthur Ellis Award, the Agatha Award, the Macavity Award, and the Barry Award, and was nominated for the Anthony Award. His other Flavia de Luce novels are"The Weed That Strings the Hangman s Bag, A Red Herring Without Mustard," "I Am Half-Sick of Shadows," "Speaking from Among the Bones, The Dead in Their Vaulted Arches, "and"As Chimney Sweepers Come to Dust.""
Praise For The Dead in Their Vaulted Arches…
Praise for The Dead in Their Vaulted Arches
 
"Part Harriet the Spy, part Violet Baudelaire from Lemony Snicket's A Series of Unfortunate Events, Flavia is a pert and macabre pragmatist."—The New York Times Book Review
 
"[Alan] Bradley's award winning Flavia de Luce series . . . has enchanted readers with the outrageous sleuthing career of its precocious leading lady. . . . This latest adventure contains all the winning elements of the previous books."—Library Journal (starred review)

"Bradley's latest Flavia de Luce novel reaches a new level of perfection as it shows the emotional turmoil and growth of a girl who has always been older than her years and yet is still a child. The mystery is complex and very personal this time, reaching into the past Flavia never knew about. . . . These are astounding, magical books not to be missed."—RT Book Reviews (Top Pick)
 
"Excellent . . . Flavia retains her droll wit. . . . The solution to a murder is typically neat, and the conclusion sets up future books nicely."—Publishers Weekly (starred review)
 
"It's hard to resist either the genre's pre-eminent preteen sleuth or the hushed revelations about her family."—Kirkus Reviews
 
"Flavia . . . is as fetching as ever; her chatty musings and her combination of childish vulnerability and seemingly boundless self-confidence haven't changed a bit."—Booklist

Acclaim for Alan Bradley's beloved Flavia de Luce novels, winners of the Crime Writers' Association Debut Dagger Award, Barry Award, Agatha Award, Macavity Award, Dilys Winn Award, and Arthur Ellis Award
 
"If ever there were a sleuth who's bold, brilliant, and, yes, adorable, it's Flavia de Luce."—USA Today
 
"Irresistibly appealing."—The New York Times Book Review, on A Red Herring Without Mustard
 
"Original, charming, devilishly creative."—Bookreporter, on I Am Half-Sick of Shadows
 
"Delightful and entertaining."—San Jose Mercury News, on Speaking from Among the Bones