Defending Jacob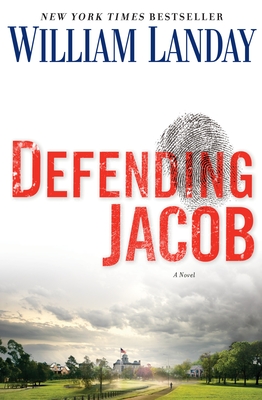 Defending Jacob
Delacorte Press, Hardcover, 9780385344227, 421pp.
Publication Date: January 31, 2012
* Individual store prices may vary.
Buy at Local Store
Enter your zip code below to purchase from an indie close to you.
or
Buy Here
Description
NAMED ONE OF THE BEST BOOKS OF THE YEAR BY
Entertainment Weekly - The Boston Globe - Kansas City Star
"A legal thriller that's comparable to classics such as Scott Turow's Presumed Innocent . . . Tragic and shocking, Defending Jacob is sure to generate buzz."--Associated Press

NEW YORK TIMES BESTSELLER
Andy Barber has been an assistant district attorney in his suburban Massachusetts county for more than twenty years. He is respected in his community, tenacious in the courtroom, and happy at home with his wife, Laurie, and son, Jacob. But when a shocking crime shatters their New England town, Andy is blindsided by what happens next: His fourteen-year-old son is charged with the murder of a fellow student.
Every parental instinct Andy has rallies to protect his boy. Jacob insists that he is innocent, and Andy believes him. Andy must. He's his father. But as damning facts and shocking revelations surface, as a marriage threatens to crumble and the trial intensifies, as the crisis reveals how little a father knows about his son, Andy will face a trial of his own--between loyalty and justice, between truth and allegation, between a past he's tried to bury and a future he cannot conceive.
Award-winning author William Landay has written the consummate novel of an embattled family in crisis--a suspenseful, character-driven mystery that is also a spellbinding tale of guilt, betrayal, and the terrifying speed at which our lives can spin out of control.
Praise for Defending Jacob

"Ingenious . . . Nothing is predictable. All bets are off."--The New York Times
"Stunning . . . a novel that comes to you out of the blue and manages to keep you reading feverishly until the whole thing is completed."--The Huffington Post
"Gripping, emotional murder saga . . . The shocking ending will have readers pulling up their bedcovers to ward off the haunting chill."--People
"The hype is justified. . . . Exceptionally serious, suspenseful, engrossing."--The Washington Post
"Even with unexpected twists and turns, the two narratives interlock like the teeth of a zipper, building to a tough and unflinching finale. This novel has major motion picture written all over it."--The Boston Globe
"Yes, this book came out in January. No, we are not done talking about it."--Entertainment Weekly
About the Author
William Landay is the author of The Strangler, a Los Angeles Times Favorite Crime Book of the Year, and Mission Flats, winner of the Creasey Memorial Dagger Award for Best First Crime Novel and a Barry Award nominee. A former district attorney who holds degrees from Yale and Boston College Law School, Landay lives in Boston, where he is at work on his next novel of suspense.
Praise For Defending Jacob…
Praise for Defending Jacob
 
"William Landay makes bold use of his genuine storytelling gift, his amazing ability to craft believable dialogue, and, above all, his extraordinary understanding of what it means to be a husband and father to present us with an unforgettable tale of an ordinary marriage and family in crisis. On the surface this novel reads like a first-rate thriller, but at its heart it's a love story.  It's the story of a man who adores his wife and child, but more than that, it's a novel that describes the fine edge between love and madness, and the lies we sometimes tell ourselves. Landay has proven himself to be an extraordinary writer, and Defending Jacob is an amazing novel. Do yourself a favor and read it. It's that good."—Nicholas Sparks
 
"Defending Jacob is smart, sophisticated, and suspenseful—capturing both the complexity and stunning fragility of family life."—Lee Child
 
"Powerful . . . leaves you gasping breathlessly at each shocking revelation."—Lisa Gardner
 
"A page-turning, stomach-clenching exploration of family."—Chevy Stevens
 
"A stunning novel that will be compared to classic courtroom thrillers like Presumed Innocent and Anatomy of a Murder."—Phillip Margolin
 
"So well-written, every character so movingly and convincingly drawn, the plot so utterly enthralling . . . Defending Jacob is absolutely stellar, first-rate fiction—human, sensitive, and gripping in the extreme."—Lisa Unger

"More than a terrific legal thrill ride, Defending Jacob is an unflinching appraisal of the darkest, most poignant consequences of the love that binds, and blinds, families. It's one of those rare books that call for contemplation and insight along with every breathtaking surprise."—Stephen White
 
"Landay spins a tale of such complexity and emotion that you don't even realize you're spiraling deep into his world until he spits you out at his shocking, shattering conclusion."—Carla Buckley
 
"Sensational . . . one of the best books of the year."—John Lutz
 
"A novel like this comes along maybe once a decade . . . a tour de force, a full-blooded legal thriller about a murder trial and the way it shatters a family. With its relentless suspense, its mesmerizing prose, and a shocking twist at the end, it's every bit as good as Scott Turow's great Presumed Innocent. But it's also something more: an indelible domestic drama that calls to mind Ordinary People and We Need to Talk About Kevin. A spellbinding and unforgettable literary crime novel."—Joseph Finder
 
 "Powerful, disturbing, complex, and gripping, Defending Jacob is impossible to put down. William Landay is a stunning talent."—Carla Neggers
 
"Riveting, suspenseful, and emotionally searing."—Linwood Barclay
 
"Brilliantly conceived . . . combines a harrowing family drama with riveting courtroom scenes that make readers feel they are actually witnessing the trial unfold."—Stephen Frey

"A carefully plotted and precisely written thriller about a family put to the ultimate test . . . Defending Jacob is bound to enthrall."—Thomas H. Cook

"Harrowing . . . This searing narrative proves the ancient Greek tragedians were right: the worst punishment is not death but living with what you—knowingly or unknowingly—have done."—Publishers Weekly (starred review)

"[Landay] reaches a new level of excellence with this riveting, knock-your-socks-off legal thriller.  With its masterfully crafted characterizations and dialogue, emotional depth, and frightening implications, the novel rivals the best of Scott Turow and John Grisham.  Don't miss it."  —Booklist (starred review)

"Gripping, emotional murder saga….The shocking ending will have readers pulling up their bedcovers to ward off the haunting chill."  —People Magazine (three of four stars)
 
"Landay has written a legal thriller that's comparable to classics such as Scott Turow's Presumed Innocent….Tragic and shocking, Defending Jacob is sure to generate buzz."  —Associated Press
 
"Do you like a mystery with a good twist at the end?  How about one with the literary equivalent of skating's triple axel?....Hang on for that shocking and yet believable ending—with a triple twist you won't see coming."  —Portland Oregonian
 
"Like John Grisham and Scott Turow, Landay is a lawyer with a solid grasp of how to use courtroom scenes to advance his jigsaw-puzzle story….with a grabby premise and careful plotting, he keeps you turning the pages through the shocking gut-punch of an ending."  —Entertainment Weekly
 
"[Landay] reaches a new level of excellence with this riveting, knock-your-socks-off legal thriller.  With its masterfully crafted characterizations and dialogue, emotional depth, and frightening implications, the novel rivals the best of Scott Turow and John Grisham.  Don't miss it."  —Booklist (starred review)

"Not since the novels of Scott Turow has a crime thriller—and thriller, though this too happens to be a literary legal thriller—shaken me by the throat like this.  It's a stunning, shocking, emotionally harrowing ride in which the reader is plunged into a riveting but terrible murder trial and the heartbreaking implosion of a loving family."  —Daily Mail

"Even with unexpected twists and turns, the two narratives interlock like the teeth of a zipper, building to a tough and unflinching finale.  This novel has major motion picture written all over it."  —The Boston Globe

"Landay turns out to be creating a clever blend of legal thriller and issue-oriented family implosion…nothing is predictable.  All bets are off."  —Janet Maslin, The New York Times

"Defending Jacob is a novel that comes to you out of the blue and manages to keep you reading feverishly until the whole thing is completed….Landay has written a stunning novel and it is one that should draw attention to the possibilities it raises.  In the next few weeks, Defending Jacob is the novel most readers are going to be discussing."  —Huffington Post

"The hype is justified…exceptionally serious, suspenseful, engrossing."  —The Washington Post