Superheroes!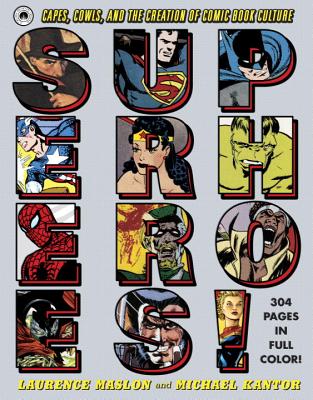 Superheroes!
Capes, Cowls, and the Creation of Comic Book Culture
Crown Archetype, Hardcover, 9780385348584, 304pp.
Publication Date: October 1, 2013
* Individual store prices may vary.
Buy at Local Store
Enter your zip code below to purchase from an indie close to you.
or
Not Currently Available for Direct Purchase
Description
Superman, Batman, Spider-Man, Iron Man, Wonder Woman, the Avengers, the X-Men, Watchmen, and more: the companion volume to the PBS documentary series of the same name that tells the story of the superhero in American popular culture.
 
Together again for the first time, here come the greatest comic book superheroes ever assembled between two covers:  down from the heavens—Superman and the Mighty Thor—or swinging over rooftops—the Batman and Spider-Man; star-spangled, like Captain America and Wonder Woman, or clad in darkness, like the Shadow and Spawn; facing down super-villains on their own, like the Flash and the Punisher or gathered together in a team of champions, like the Avengers and the X-Men!
 
Based on the three-part PBS documentary series Superheroes, this companion volume chronicles the never-ending battle of the comic book industry, its greatest creators, and its greatest creations.  Covering the effect of superheroes on American culture—in print, on film and television, and in digital media—and the effect of American culture on its superheroes, Superheroes: Capes, Cowls, and the Creation of Comic Book Culture appeals to readers of all ages, from the casual observer of the phenomenon to the most exacting fan of the genre.
 
Drawing from more than 50 new interviews conducted expressly for Superheroes!—creators from Stan Lee to Grant Morrison, commentators from Michael Chabon to Jules Feiffer, actors from Adam West to Lynda Carter, and filmmakers such as Zach Snyder—this is an up-to-the-minute narrative history of the superhero, from the comic strip adventurers of the Great Depression, up to the blockbuster CGI movie superstars of the 21st Century.  Featuring more than 500 full-color comic book panels, covers, sketches, photographs of both essential and rare artwork, Superheroes is the definitive story of this powerful presence in pop culture.
About the Author
Laurence Maslon is an associate arts professor at New York University's Tisch School of the Arts. He is the coauthor, with Michael Kantor, of the acclaimed companion volume to the Emmy Award-winning PBS documentary series "Broadway: The American Musical", for which he also cowrote two episodes. He also wrote the "American Masters" documentary on Richard Rodgers and was senior consultant on the fortieth-anniversary DVD release of "The Sound of Music". He lives in New York City and on Long Island with his wife, Genevieve, and their dog, Ruby.

Kantor is a writer, director, and producer. He is president of Ghost Light Films and Almo Inc., companies dedicated to bringing the arts to television.
Praise For Superheroes!…
"From its roots in the pulp novels of the early 1900s to its contemporary ubiquity, Superheroes! provides intriguing fodder for those of us who wonder how this age of adolescence dawned, and why it's stuck around so long. . . . colorfully and copiously illustrated . . . the companion volume to the three-part PBS documentary series Superheroes:  A Never-Ending Battle. If the television series represents an express ride through 75 years of comics history, its more comprehensive coffee-table iteration is ideally suited to those of us nerds who'd prefer to take the local."--The New York Times Book Review

"A deeply knowledgeable, engaging, and respectful history . . . will enlighten the casual fan and challenge lifelong fans."—Mark Squirek, New York Journal of Books

"Exceptionally comprehensive"—ComicsGrinder.com

"A breezy, imaged-filled narrative perfect for someone who wants a single volume history of comic superheroes. . . . I enjoyed it. If you have someone who still can't believe you read superhero comics, this is a nice volume to explain the power and history of the genre."--dcwomenkickingass.tumblr.com