All Our Names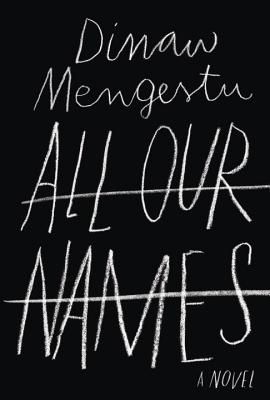 All Our Names
Knopf Publishing Group, Hardcover, 9780385349987, 255pp.
Publication Date: March 4, 2014
* Individual store prices may vary.
Buy at Local Store
Enter your zip code below to purchase from an indie close to you.
or
Not Currently Available for Direct Purchase
Description
From acclaimed author Dinaw Mengestu, a recipient of the National Book Foundation's 5 Under 35 award, The New Yorker's 20 Under 40 award, and a 2012 MacArthur Foundation genius grant, comes an unforgettable love story about a searing affair between an American woman and an African man in 1970s America and an unflinching novel about the fragmentation of lives that straddle countries and histories. 

All Our Names is the story of two young men who come of age during an African revolution, drawn from the safe confines of the university campus into the intensifying clamor of the streets outside. But as the line between idealism and violence becomes increasingly blurred, the friends are driven apart—one into the deepest peril, as the movement gathers inexorable force, and the other into the safety of exile in the American Midwest. There, pretending to be an exchange student, he falls in love with a social worker and settles into small-town life. Yet this idyll is inescapably darkened by the secrets of his past: the acts he committed and the work he left unfinished. Most of all, he is haunted by the beloved friend he left behind, the charismatic leader who first guided him to revolution and then sacrificed everything to ensure his freedom.
 
Elegiac, blazing with insights about the physical and emotional geographies that circumscribe our lives, All Our Names is a marvel of vision and tonal command. Writing within the grand tradition of Naipul, Greene, and Achebe, Mengestu gives us a political novel that is also a transfixing portrait of love and grace, of self-determination and the names we are given and the names we earn. 
About the Author
Ne a Addis Abeba, Ethiopie en 1978. A deux ans, Dinaw Mengestu fuit son pays natal avec sa mere et sa grande soeur pour rejoindre son pere, lui-meme parti peu avant sa naissance pour echapper a la Terreur Rouge, la revolution communiste. La famille s'installe a Peoria dans l'Illinois, puis a Georgetown, Washington D.C. A l'adolescence, Dinaw Mengestu se passionne pour l'Ethiopie; il interroge et enregistre les recits de la famille, qui lui inspire son premier roman, roman, 'Les Belles Choses que porte le ciel'. En tant que journaliste free-lance, Dinaw Mengestu collabore aux magazines Harper's, Jane et Rolling Stone, pour lequel il a redige un article sur le Darfour. Dinaw Mengestu enseigne egalement l'ecriture et la litterature a l'universite de Georgetown.
Praise For All Our Names…
"You can't turn the pages fast enough, and when you're done, your first impulse is to go back to the beginning and start over . . . While questions of race, ethnicity, and point of origin do crop up repeatedly in Mengestu's fiction, they are merely his raw materials, the fuel with which he so artfully—but never didactically—kindles disruptive, disturbing stories exploring the puzzles of identity, place, and human connection. Mengestu began this exploration with his dazzling first novel, The Beautiful Things That Heaven Bears, and extended it in How to Read the Air. Good as they were, those books now look like warm-up acts . . . All Our Names is a book about an immigrant, but more profoundly it is a story about finding out who you are, about how much of you is formed by your family and your homeland, and what happens when those things go up in smoke . . . Like the best storytellers, Mengestu knows that endings don't have to be happy to be satisfying, that mysteries don't need to be explained, that discriminating between what can and can't be known is more than enough. And he is generous enough to imbue his characters with this awareness as well . . . The victories in this beautiful novel are hard fought and hard won, but won they are, and they are durable."
            —Malcolm Jones, The New York Times Book Review (cover)
 
"Deeply moving . . . Great lyricism and ferocity . . . An elegiac quality oddly reminiscent of Evelyn Waugh's Brideshead Revisited . . . Mengestu writes from the points of view of Helen and Isaac with poignancy and psychological precision, deftly evoking their very different takes on the world. He also manages to make the reader understand the many things they have in common . . . Mengestu is concerned here not only with the dislocations experienced by immigrants, but also with broader questions of identity: how individuals define themselves by their dreams, their choices, the place or places they call home."
            —Michiko Kakutani, The New York Times
 
"Disarmingly tender . . . Finely calibrated . . . The author perceptively explores the way that alienation serves as the handmaid of idealism . . . Leavening the attendant sadness if the fact that Mengestu's characters never altogether abandon their hope—it survives not in political or social revolt but in the true and moving depictions of love and friendship."
            —The Wall Street Journal
 
"Mournful, mysterious . . . Tantalizingly laconic . . . Delicately drawn . . . The emotional power seeps through lines that seem placid . . . Devastating."
            —Washington Post
 
"Extraordinary . . . Taut and swift as a novella with an abiding mystery driving it forward . . . Mengestu masterfully plays these two storylines off one another. In both threads, the narrative revolves around what is visible and invisible in a person's character, and how this duality can lead to problems when one is charmed . . . The raptures at the heart of All Our Names have a steeling quality . . . One reads to the end with a kind of desperate intensity."
            —Boston Globe
 
"A subtle masterpiece . . . Mengestu uses love and war to powerfully explore a third, equally dramatic theme: identity . . . We see, in this novel, the way people become radicalized and get worked up for a cause; and the way at other times, people get worked up for love. Both can be directionless and, in the end, impossible . . . Mengestu tracks both themes with authority and feeling. His book is a powerful look at who we aren't, and even, sometimes, who we are."
            —Meg Wolitzer, NPR
 
"Fierce and touching . . . As absorbing as it is thought-provoking . . . Mengestu's best book yet."
            —Library Journal (starred review)
 
"Idealism, disillusionment, justice, and love—these are the topics beautifully explored in All Our Names . . . Sometimes lyrical, sometimes plaintive, Mengestu's novel is about a young man coming to terms with his past and trying to determine his future. But it's also a searing, universal story of emigration and identity."
            —Amazon.com, Best Book of the Month
 
"Speaks to Mengestu's reach for new and more complex material. All Our Names rises above its particulars with an elegiac quality, a mourning for what has been lost not so much by any individual, but by whole countries and even a continent, as power corrupts absolutely and leaves its citizens with two choices: endure or escape."
            —Seattle Times
 
"Subtly powerful . . . Sharp . . . We need globe-straddlers like Mengestu to show us that love, like hate, respects no borders."
            —Boris Kachka
 
"The stories of the narrators and the Isaacs intertwine as Mengestu explores the perils of love, identity, and memory for a person living in exile."
            —NewYorker.com
 
"Magnificent . . . Mengestu seamlessly weaves together a disturbing story of parallel lives and plots. There are telling similarities between student unrest in Africa and in America, the dreams of young adults everywhere, particularly when they are thwarted by prejudice and racialism . . . Rendered with great tenderness and respect . . . We are not that different, after all."
            —CounterPunch
 
"All Our Names is about the ways social forces interfere with the bonds between individuals, as well as the ways those bonds hold, even when frayed . . . The story of Helen and the two Isaacs, and the ways their longings mesh or don't, has a subtle power that gets under the surface of events to explore the complexities of human relationships."
            —The Columbus Dispatch
 
"Heart-rending . . . Gorgeously described . . . All Our Names both invokes and channels Great Expectations—a novel, like this one, about letting go of myths we'll never inhabit, so that we might craft new stories that free us to live."
            —Milwaukee Journal Sentinel
 
"Mengestu grounds big ideas about an uprising in Africa in simple emotions. The story's narrator, a student turned revolutionary, gets swept up in love as easily as he does in politics."
            —Time Out New York (critics' picks)
 
"Mengestu's sober, tender third novel is essentially a love story . . . Mengestu seamlessly inhabits Helen's consciousness as well as Isaac's with emotionally nuanced portraits that are poignant and compelling . . . A bold success."
            —Kirkus
 
"Cleanly tailored but potent prose . . . Mengestu cleverly toys with our perceptions . . . Writing with the kind of effortless ease suggestive of much painstaking struggle, Mengestu locates the novel's horror not in war per se, but in those seemingly born to its bidding." 
            —The Toronto Star
 
"This is not a book about war—it is a book about love . . . A love born out of loneliness and need, complicated by war and politics; but a love that, in the end, saves his characters and redeems them."
            —WWNO Radio
 
 "Elegiac, moving . . . Mengestu is alert to the nuances of what transplantation and exile can do to the spirit . . . As in a V.S. Naipaul story, neither the country nor the time matter much in a tale about human universals, in this case the universal longing for justice and our seemingly universal inability to achieve it without becoming unjust ourselves . . . Another superb story by Mengestu, who is among the best novelists now at work in America."
            —Kirkus Reviews (starred review)
 
 "Mengestu portrays the intersection of cultures experienced by the immigrant with unsettling perception . . . He evokes contrasting landscapes but focuses on his characters—Isaac, the saddened visionary; Isaac, the secretive refugee; Helen, the sympathetic lover—who are all caught in a cycle of connection and disruption, engagement and abandonment, hope and disillusion."
            —Publishers Weekly (starred review, Pick of the Week)
 
"An elegiac love story . . . Split across two narratives—one in the past, one in the present—All Our Names dramatizes the clashes between romantic idealism and disillusioned practicality, as well as between self-preservation and violence, all while blurring the identities of those who can move on, those who stay behind, and those who simply change."
            —The Millions, "Most Anticipated: The Great 2014 Book Preview"
 
"The author highlights the dense slums of Kampala with the same intensity as he does the flatness of his midwestern farm town. But Mengestu is less interested in photographing a particular historical moment than he is fascinated by the dangers each setting imposes upon his vulnerable protagonists and their fragile relationships. And in the end, despite the bleak settings, tenderness somehow triumphs."
            —Booklist
Thursday, Apr 3, 2014
Meg Wolitzer says All Our Names, told in the alternating voices of two lovers, is a subtle masterpiece. It tackles huge themes � relationships, violence, identity, racism � but never overreaches. More at NPR.org
Saturday, Mar 8, 2014
Dinaw Mengestu is known for writing about the immigrant experience, but his latest novel takes a slightly different tack: It's about love born out of loneliness and need, and complicated by war. More at NPR.org