With or Without You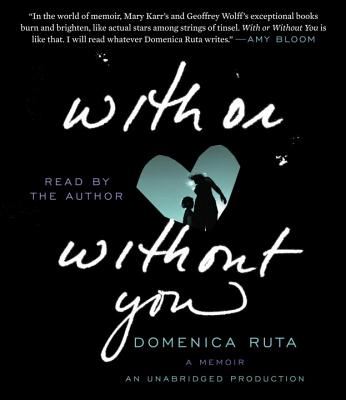 With or Without You
Random House Audio Publishing Group, Compact Disc, 9780385360951
Publication Date: February 26, 2013
* Individual store prices may vary.
Buy at Local Store
Enter your zip code below to purchase from an indie close to you.
or
Not Currently Available for Direct Purchase
Description
A haunting, unforgettable mother-daughter story for a new generation—the debut of a blazing new lyrical voice
 
Domenica Ruta grew up in a working-class, unforgiving Italian town north of Boston where in the seventeenth century women were hanged as witches. Her mother, Kathi, a notorious figure in this hardscrabble place, was a drug addict and sometime dealer whose life swung between welfare and riches, whose highbrow taste was at odds with her base appetites. And yet she managed, despite the chaos she created, to instill in her daughter the idea that art—via a classic film or a classical education—could transcend this life of undying grudges, self-inflicted misfortune, and the crooked moral code that Kathi and her cohorts lived by. With or Without You is the story of Domenica's unconventional coming of age—a darkly hilarious chronicle of a misfit '90s childhood and the necessary and painful act of breaking away, and of overcoming her own addictions and demons in the process. In a brilliant stylistic feat, Domenica Ruta has written a powerful, inspiring, compulsively readable, and finally redemptive story about loving and leaving.
 
Advance praise for With or Without You
 
"Freakishly brilliant, brilliantly freakish, this is one of the best memoirs I have ever read. Domenica Ruta has done something every artist with a failed family must do: She has created herself."—Gary Shteyngart
 
" 'Make it new,' Ezra Pound directed, and Domenica Ruta has. Difficult childhoods are plentiful; the talent to transform adversity into art is in short supply. Unflinching in its regard, forgiving in its humor, With or Without You is that rare thing, a story you think you know transformed into one you have to read to the end."—Kathryn Harrison
 
"In the world of memoir, Mary Karr's and Geoffrey Wolff's exceptional books burn and brighten, like actual stars among strings of tinsel. With or Without You is like that. I will read whatever Domenica Ruta writes."—Amy Bloom
About the Author
Domenica Ruta was born and raised in Danvers, Massachusetts. She is a graduate of Oberlin College and holds an MFA from the Michener Center for Writers at the University of Texas at Austin. She was a finalist for the Keene Prize for Literature and has been awarded residencies at Yaddo, the MacDowell Colony, the Blue Mountain Center, Jentel, and Hedgebrook.
Praise For With or Without You…
"A luminous, layered accomplishment."—The New York Times Book Review

"A singular new coming-of-age memoir traces one girl's twisting path up from mean streets (and parents) to the reflective life of a writer. . . . The burgeoning canon of literary memoir . . . begets another winner in Domenica Ruta's searing With or Without You. . . . [A] gloriously gutsy memory-work."—Elle
 
"Stunning . . . comes across as a bleaker, funnier, R-rated version of The Glass Castle and marks the arrival of a blazing new voice in literature."—Entertainment Weekly
 
"Valiant and heartbreaking."—Bust
 
"Powerful . . . Ruta found an unconventional voice, a scary good mixture of erudition and hardened street smarts. Her writing is also, as they say in Danvers, wicked funny—though in her case wicked is more an adjective than an intensifier. . . . [With or Without You] hums with jangled energy and bristles with sharp edges. . . . Ruta writes with unflinching honesty."—Slate
 
"Bracingly funny and poignant."—The Boston Globe
 
"Exceedingly powerful."—Booklist
 
"Domenica Ruta is a real and excellent writer who has language by the throat. She writes with big beauty and drives her story with huge humanism, empathy, and humor."—Gabrielle Hamilton, author of Blood, Bones & Butter

"Difficult childhoods are plentiful, the talent to transform adversity into art in short supply. Unflinching in its regard, forgiving in its humor, With or Without You is that rare thing, a story you think you know transformed into one you have to read to the end."—Kathryn Harrison, author of Enchantments
 
"In the world of memoir, Mary Karr's and Geoffrey Wolff's exceptional books burn and brighten, like actual stars among strings of tinsel. With or Without You is like that. I will read whatever Domenica Ruta writes."—Amy Bloom, author of Where the God of Love Hangs Out
 
"Freakishly brilliant, brilliantly freakish, this is one of the best memoirs I have ever read. Domenica Ruta has done something every artist with a failed family must do: She has created herself."—Gary Shteyngart, author of Super Sad True Love Story