Tales from Lovecraft Middle School #1, #2, and #3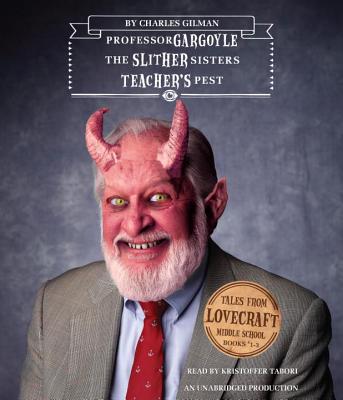 Tales from Lovecraft Middle School #1, #2, and #3
#1: Professor Gargoyle, #2: The Slither Sisters, #3: Teacher's Pest
Listening Library, Compact Disc, 9780385368438
Publication Date: May 14, 2013
* Individual store prices may vary.
Buy at Local Store
Enter your zip code below to purchase from an indie close to you.
or
Not Currently Available for Direct Purchase
Description
Strange things are happening at Lovecraft Middle School. Rats are leaping from lockers. Students are disappearing. The school library is a labyrinth of secret corridors. And the science teacher is acting very peculiar in fact, he just might be a monster-in-disguise. Twelve-year-old Robert Arthur knew that seventh grade was going to be weird, but this is ridiculous
"Professor Gargoyle" (Volume I in the "Tales from Lovecraft Middle School" series) is full of bizarre beasts, strange mysteries, and nonstop adventure.You won't believe your ears
This second novel in the "Tales from Lovecraft Middle School" series begins right where "Professor Gargoyle" ended. Seventh-grader Robert Arthur has discovered that two of his classmates are actually sinister snake-women in disguise. Even worse, his new middle school is full of gates to a terrifying alternate dimension a haunted mansion full of strange spirits and monstrous beasts. For Robert to protect his teachers and classmates, he'll need to return to this haunted dimension with his best friends Glenn and Karina. Can they uncover the secrets of Lovecraft Middle School before it's too late?
DON'T BE FOOLED by his friendly smile, his perfect manners, or his shiny red apple. Student council president Howard Mergler is actually a sinister bug-monster in disguise and he's summoning swarms of roaches, wasps, fleas, and head lice into the corridors of Lovecraft Middle School Twelve-year-old Robert Arthur is the only student who can stop him--but he'll need help from his best friends: the school bully, the school ghost, and an extremely courageous two-headed rat.
"Teacher's Pest," the third novel in the Lovecraft Middle School series, begins right where"Professor Gargoyle"and"The Slither Sisters"ended with more action, more adventure, and more outrageous monsters
About the Author


Kristoffer Tabori has been involved in the world of television, film and theatre since he was six years old. As a director he won an Emmy, The Theatre World Award, The LA Drama Critics Circle Award, the LA Weekly Award, and ten Drama-logue Awards. He has lent his voice to a number of films including "Alpha Protocol, Star Wars: The Force Unleashed - Ultimate Sith Edition, Endwar, "and "Spider-Man: Web of Shadows "and in television to" Avatar: The Last Airbender" and "The Adventures of Don Coyote and Sancho Panda". Tabori has read a range of Earphones Award-winning audiobooks. His work includes narrating Jeffrey Eugenides's "Middlesex", Jack Finny's "Invasion of the Body Snatchers", and the compilation "Tales for a Stormy Night".