The Art of Worldly Wisdom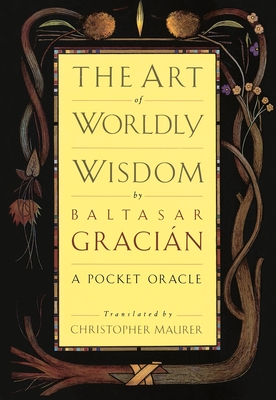 The Art of Worldly Wisdom
Crown Business, Hardcover, 9780385421317, 208pp.
Publication Date: December 1, 1991
* Individual store prices may vary.
Buy at Local Store
Enter your zip code below to purchase from an indie close to you.
or
Buy Here
Description
The remarkable best-seller -- a long-lost, 300-year-old book of wisdom on how to live successfully yet responsibly in a society governed by self-interest -- as acute as Machiavelli yet as humanistic and scrupulously moral as Marcus Aurelius.
About the Author
Baltasar Gracian y Morales est un ecrivain et essayiste jesuite ne le 8 janvier 1601 a Belmonte del Rio Perejil (Belmonte de Gracian, pres de Calatayud) en Espagne et mort le 6 decembre 1658 a Tarazona, pres de Saragosse. Ordonne pretre en 1627, il rejoint la compagnie de Jesus en 1633, prononca ses veux en 1635 et embrassa une carriere d'enseignant dans les ecoles de la Compagnie. En 1640, il devint confesseur de Francesco Maria Carafa, duc de Nocera, vice-roi d'Aragon, ce qui lui ouvrit les portes de la cour de Philippe IV, roi d'Espagne. En 1646, il fut l'aumonier de l'armee d'Espagne lorsque celle-ci reprit Lerida aux troupes du comte d'Harcourt. Ses qualites de predicateur lui valurent le poste de recteur de la compagnie de Jesus a Tarragone. Il publia de nombreux ouvrages sans se soucier de l'avis de ses superieur, ce qui lui finit par lui valoir d'etre sanctionne, exile a Graus en 1657, et mis en penitence (au pain et a l'eau). Il mourut rapidement de la severite de ce regime. Les uvres les plus connues de Baltasar Gracian sont: -Le heros -L'homme de cour -L'homme universel -Le Criticon -L'art de la prudence -Le Politique Dom Ferdinand le Catholique -Art et figures de l'esprit.

Christopher Maurer, the editor of Garcia Lorca's "Selected Verse, Poet in New York, " and other works, is the author of numerous books and articles on Spanish poetry. He is head of the Department of Spanish, French, Italian, and Portuguese at the University of Illinois-Chicago.