Just as I Am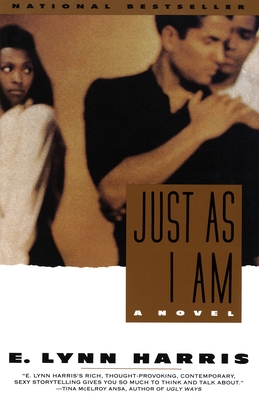 Just as I Am
Anchor Books, Paperback, 9780385469708, 384pp.
Publication Date: February 15, 1995
* Individual store prices may vary.
Buy at Local Store
Enter your zip code below to purchase from an indie close to you.
or
Buy Here
Description
E. Lynn Harris's blend of rich, romantic  storytelling and controversial contemporary issues like  race and bisexuality have found an enthusiastic and  diverse audience across America. Readers celebrate  the arrival in paperback of his second novel,  Just As I Am, which picks up where  Invisible Life left off,  introducing Harris's appealing and authentic characters to a  new set of joys, conflicts, and choices. Raymond,  a young black lawyer from the South, struggles to  come to terms with his sexuality and with the grim  reality of AIDS. Nicole, an aspiring  singer/actress, experiences frustration in both her career and  in her attempts to find a genuine love  relationship. Both characters share an eclectic group of  friends who challenge them, and the reader, to look at  themselves and the world around thern through  different eyes. By portraying Nicole's and Raymond's  joys, as well as their pain, Harris never ceases to  remind us that life, like love, is about  self-acceptance. In this vivid portrait of contemporary  black life, with all its pressures and the  complications of bisexuality, AIDS, and racism, Harris  confirms a faith in the power of love -- love of all  kinds -- to thrill and to heal, which will warm the  hearts of readers everywhere.
About the Author
E. Lynn Harris is a former computer sales executive with IBM and a graduate of the University of Arkansas at Fayetteville. He self-published Invisible Life, with great success. It went on to become a Blackboard bestseller and a 1996 ABA Blackboard List Outstanding African American Novel Nominee. In 1996, Just As I Am was awarded the Novel of the Year Prize by Blackboard African-American Bestsellers, Inc. If This World Were Mine was a finalist for the 1997 NAACP Image Award and winner of the James Baldwin Award for Literary Excellence. His new novel, Not A Day Goes By, will be published by Doubleday in summer 2000. Harris currently divides his time between Chicago and New York.
Praise For Just as I Am…
"Just As I Am more than delivers on  the promise of Invisible Life.  Harris gives his readers a refreshing view of  African-American achievement, a touching  characterization of a man living with AIDS, and a sensitive  depiction of gay/straight friendships that is much  to be hoped for in the world outside the book's  pages." -- The Atlanta Journal Constitution.