Talk Talk Talk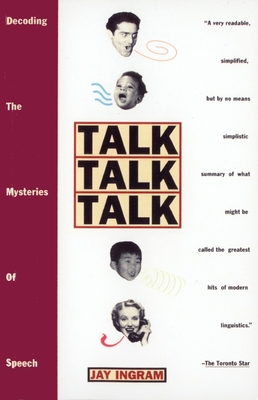 Talk Talk Talk
Decoding the Mysteries of Speech
Anchor Books, Paperback, 9780385473835, 336pp.
Publication Date: July 1, 1994
* Individual store prices may vary.
Buy at Local Store
Enter your zip code below to purchase from an indie close to you.
or
Buy Here
Description
With a mixture of erudition and humor, Canadian radio personality Jay Ingram discusses the sociology of talking: the dynamics of conversation, men and women's different propensities for interrupting, and even the proper use of "you know." But he also delves into the mystery-riddled physiology of talking. While we now know that certain areas of the brain seem to control specific aspects of speech from articulating words to creating meaningful sentences how do scientists explain the extraordinary case of the young stroke victim who lost only the words for fruits and vegetables? Is it possible that the ability to talk is actually encoded in our genes, as some scientists believe?
From the language roots of North America to the speech differences between Neanderthals and Cro-Magnons, from modern children creating whole new languages in one generation to Freudian slips, from talking to yourself to speaking in tongues, Talk, Talk, Talk covers the gamut of humankind's most enigmatic and intriguing skill. Impeccably researched, lively, and accessible, Talk, Talk, Talk is a book you won't be able to keep quiet about.