The Culture of Disbelief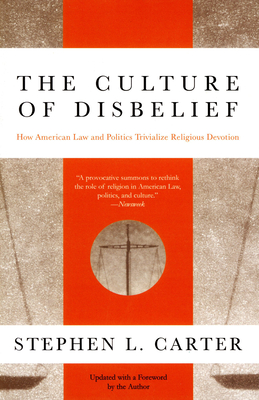 The Culture of Disbelief
Anchor Books, Paperback, 9780385474986, 352pp.
Publication Date: September 1, 1994
* Individual store prices may vary.
Buy at Local Store
Enter your zip code below to purchase from an indie close to you.
or
Buy Here
Description
The Culture Of Disbelief hasbeen the subject of an enormous amount of mediaattention from the first moment it was published.Hugely successful in hardcover, the Anchor paperbackis sure to find a large audience as theever-increasing, enduring debate about the relationship ofchurch and state in America continues. In TheCulture Of Disbelief, Stephen Carterexplains how we can preserve the vital separation ofchurch and state while embracing rather thantrivializing the faith of millions of citizens ortreating religious believers with disdain. What makesCarter's work so intriguing is that he uses liberalmeans to arrive at what are often consideredconservative ends. Explaining how preserving a specialrole for religious communities can strengthen ourdemocracy, The Culture Of Disbeliefrecovers the long tradition of liberal religiouswitness (for example, the antislavery, antisegregation, and Vietnam-era antiwar movements). Carterargues that the problem with the 1992 Republicanconvention was not the fact ofopen religious advocacy, but the politicalpositions being advocated.
Praise For The Culture of Disbelief…
"Rational  argument rarely seems as warm, as human, as it  does in this book...Carter leads the reader to  contemplate the embattled constitutional wall between  the state and religion, and he does so without  furor, without dogma, with only the qualities he  envisions in the ideal public square: moderation,  restraint, respect." -- The New  Yorker.