Say It and Live It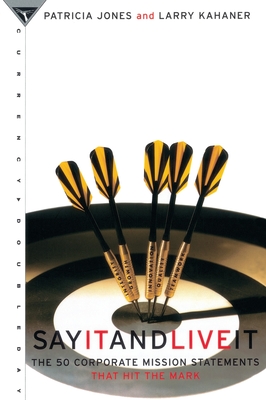 Say It and Live It
Currency, Paperback, 9780385476300, 284pp.
Publication Date: September 2, 1998
* Individual store prices may vary.
Buy at Local Store
Enter your zip code below to purchase from an indie close to you.
or
Buy Here
Description
Say It And Live It is the first collection of provocative, passionate, and intelligent corporate mission statements -- the most powerful and popular managerial tool in business today. A corporate mission statement is the most dramatic presentation of a company's vision and its goal. No other document -- annual report, press release, news article, statement from the board of directors -- tells us more about a company's values and ethics than a mission statement. Companies know that if they write it down, they will have to live up to it -- so they devote months, even years, the energy of people from the CEO on down, and significant sums of money to crafting them. Say It And Live It is the only source of information for the many business people who are presently writing their own mission statements. In it, authors Patricia Jones and Larry Kahaner show that industry leaders are frequently corporations that truly live their mission statements. Some of the winners include: Avis, Ben & Jerry's, Boeing, Citicorp, General Electric, Gillette, Hallmark Cards, IBM, Kellogg's, Reader's Digest, Saturn, Southwest Airlines, UPS, and Xerox. Say It And Live It is a collection of the fifty best corporate mission statements in America. Each entry consists of the company's complete mission statement, along with an explanation of how it was written, a lesson about how that mission statement saved the company or motivated employees, or comments from the CEO or the president. The introduction points out the common elements of these philosophical documents, while the final chapter is a list of tips on how you can write your own mission statement.
About the Author
Jones is a former editor of Black Enterprise magazine. She is a freelance writer.

LARRY KAHANER is an award-winning journalist, lecturer, and consultant, and the author of nine books that have been translated into a dozen languages. He is a former Washington staff correspondent for BusinessWeek, reporter for Knight-Ridder newspapers and a founding editor of Communications Daily. He currently is Washington Editor of Fleet Owner magazine. He has written for InformationWeek, the Christian Science Monitor, the International Herald Tribune, the European, and Management Technology. He has been a guest on many shows including Larry King Live!, CNBC's Management Today, NPR's All Things Considered, and the Motley Fool Radio Show.
For more information go to www.talmudbook.com or contact the author at info@talmudbook.com.