Desire of the Everlasting Hills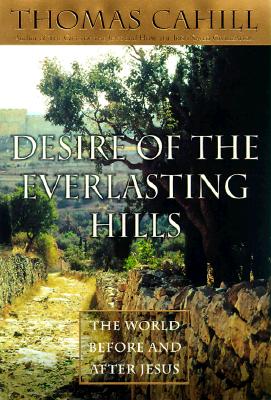 Desire of the Everlasting Hills
The World Before and After Jesus
Nan A. Talese, Hardcover, 9780385482516, 368pp.
Publication Date: November 1, 1999
* Individual store prices may vary.
Buy at Local Store
Enter your zip code below to purchase from an indie close to you.
or
Not Currently Available for Direct Purchase
Description
"Cahill is insightful, wry, and highly entertaining as he explores the cultural influences, social expectations, and tricky politics of the day.  He examines the New Testament in this light, yet remains respectful. His goal, he states early, is to ascertain whether Jesus made a difference. His conclusion is unequivocal."
--Christian Science Monitor


In Desire of the Everlasting Hills, Thomas Cahill takes up his most daring and provocative subject yet: Jesus of Nazareth, the central figure of Western civilization.

Introducing us first to "the people Jesus knew," Thomas Cahill describes the oppressive Roman political presence, the pervasive Greek cultural influence, and especially the widely varied social and religious context of the Judaism in which Jesus moved and flourished. These backgrounds, essential to a complete understanding of Jesus, lead to the author's stunningly original interpretation of the New Testament--much of it based on material from the ancient Greek brilliantly translated by the author himself--that will delight readers and surprise even biblical scholars.

Thomas Cahill's most unusual skill may lie in his ability to bring to life people of a faraway world whose concerns seem at first to be utterly removed from the present day. We see Jesus as a real person, sharp-witted and sharp-tongued, but kind, humorous, and affectionate, shadowed by the inevitable climax of crucifixion, the cruelest form of execution ever devised by humankind. Mary, while not quite the "perpetual virgin" of popular piety, is a vivid presence and forceful influence on her son. And the apostle Paul, the carrier of Jesus' message and most important figure in the early Jesus movement (which became Christianity), finds rehabilitation in Cahill's realistic, revealing portrait of him.

The third volume in the Hinges of History series, this unique presentation of Jesus and his times is for believers and nonbelievers alike (for Jews and Christians, it is intended by the author as an act of reconciliation). With the same lively narration and irresistible perceptions that characterize How the Irish Saved Civilization and The Gifts of the Jews, Thomas Cahill invites readers into an ancient world to commune with some of the most influential people who ever lived.
About the Author
THOMAS CAHILL is the author of the best-selling books, How the Irish Saved Civilization: The Untold Story of Ireland 's Heroic Role from the Fall of Rome to the Rise of Medieval Europe and The Gifts of the Jews: How a Tribe of Desert Nomads Changed the Way Everyone Thinks and Feels. His latest book, Desire of the Everlasting Hills: The World Before and After Jesus, has just been released. These books comprise the first three volumes of a prospective seven-volume series entitled "The Hinges of History," in which Cahill recounts formative moments in Western civilization. In "The Hinges of History," Thomas Cahill endeavors to retell the story of the Western World through little-known stories of the great gift-givers, people who contributed immensely to Western, culture and the evolution of Western sensibility, thus revealing how we have become the people we are and why we think and feel the way we do today.

Thomas Cahill is best known, in his books and lectures, for taking on a broad scope of complex history and distilling it into accessible, instructive, and entertaining narrative. His lively, engaging writing animates cultures that existed up to five millennia ago, revealing the lives of his principal characters with refreshing insight and joy. He writes history, not in its usual terms of war and catastrophe, but as "narratives of grace, the recountings of those blessed and inexplicable moments when someone did something for someone else, saved a life, bestowed a gift, gave something beyond what was required by circumstance." Unlike all too many history lessons, a Thomas Cahill history book or speech is impossible to forget.

He has taught at Queens College, Fordham University and Seton Hall University, served as the North American education correspondent for the Times of London, and was for many years a regular contributor to the Los Angeles Times Book Review. Prior to retiring recently to write full-time, he was director of religious publishing at Doubleday for six years. He and his wife, Susan, also an author, founded the now legendary Cahill & Company Catalogue, much beloved by readers. They divide their time between New York and Rome.
Praise For Desire of the Everlasting Hills…
"With grace, skill, and erudition, Cahill summarizes obtuse semantic and historical arguments, highlights the findings most relevant to lay readers and draws disparate materials together in his portraits of Jesus, his mother, Mary, and the apostle Paul."
--Washington Post

"Desire of the Everlasting Hills imparts gratifying dimension to the beginnings of what later became known as Christianity. Most important, it makes of Jesus a still-living literary presence."
--New York Times

"Each of his books also offers moments of genuine insight into the workings of culture, literature, and the human heart....For a book about Jesus and the early Christians, Desire of the Everlasting Hills is itself a gift."
--Commonweal

"Cahill's ability to bring life to people of a faraway world ensures that this book will be an interpretive history accessible to believers and non-believers alike."
--Los Angeles Times


Praise for The Gifts of the Jews:

"Captivating...persuasive as well as entertaining...Mr. Cahill's book is a gift."
--Christopher Lehmann-Haupt, The New York Times

"He exalts his ancient subjects; their hearts, minds and experiences resonate in his compelling contemporary narrative."
--Chicago Tribune

"A very good read, a dramatically effective, often compelling retelling of the Hebrew Bible."
--Chicago Sun-Times

"Thomas Cahill looks at history with the rigor of a scholar but explains it simply, with the skill of a gifted teacher...He conveys with a fresh lens a legacy 'so much a part of us' that we scarcely recognize it."
--Jewish Bulletin


Praise for How the Irish Saved Civilization:

"Charming and poetic...an entirely engaging, delectable voyage into the distant past, a small treasure."
--Richard Bernstein, The New York Times

"Cahill's lively prose breathes life into a 1,600-year-old history."
--Boston Globe

"When Cahill shows the splendid results of St. Patrick's mission in Ireland--among them the transmission of classical literature and the evangelization of Europe--he isn't exaggerating. He's rejoicing."
--The New Yorker

"Everything he writes turns to gold."
--Il Mondo