Church and Revolution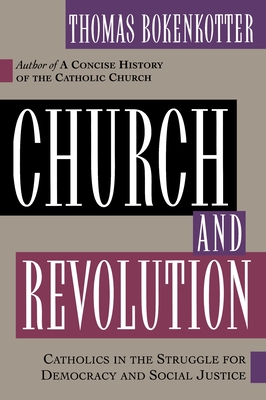 Church and Revolution
Catholics in the Struggle of Democracy and Social Justice
Image, Paperback, 9780385487542, 596pp.
Publication Date: July 10, 1998
* Individual store prices may vary.
Buy Now
or
Shop Local
Enter your zip code below to purchase from an indie close to you.
Description
Though sometimes a source of controversy regarding certain issues, the Catholic Church has in many ways lead the struggle for social justice and rights for the poor in our age. Pope John Paul II never lets an opportunity pass without insisting on the need for greater respect for human rights and the need to alleviate the pains of poverty. In the United States the Catholic Church is the single largest private organization providing assistance to the underprivileged--operating soup kitchens and shelters for the homeless, providing care for the sick, and education for the needy.

But this struggle was not always a top priority. In fact, at the time of the French Revolution the Catholic Church was among the most conservative and reactionary of the world's powers. "Church and Revolution" deals with the interesting historical question: How did the Catholic Church develop from being a defender of the status quo to being a progressive force in world affairs? Thomas Bokenkotter traces the development of social justice in the Church over the 200 years since the French Revolution through portraits of fifteen colorful figures who were all key to the political revolutions of the past two centuries and who also effected the Church's response to them--including Salvadoran Archbishop Oscar Romero; Irish emancipator Daniel O'Connell; founder of the American Catholic Worker movement, Dorothy Day; and Polish electrician and President, Lech Walesa.
About the Author
THOMAS BOKENKOTTER, the author of the bestselling "Church and Revolution," teaches at Xavier University. He is also the pastor of Assumption Church and is active in the social ministry, running a soup kitchen that he founded twenty years ago and a transitional living facility for homeless women and children. He lives in Cincinnati, Ohio.