Pure Slaughter Value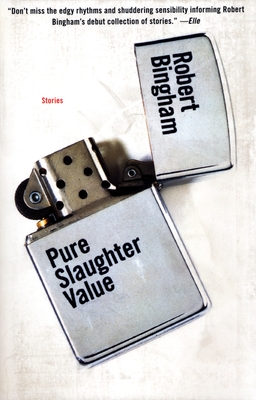 Pure Slaughter Value
Stories
Anchor Books, Paperback, 9780385488679, 208pp.
Publication Date: June 15, 1998
* Individual store prices may vary.
Buy at Local Store
Enter your zip code below to purchase from an indie close to you.
or
Not Currently Available for Direct Purchase
Description
In his extraordinary debut collection, Pure Slaughter Value, Robert Bingham tracks the conscience of a generation that grew up educated, privileged, and starved for meaning. Bingham's strange sense of morbid fancy collides with a gutsy realism; the result is splendid wreckage: a young man is seduced by his first cousin (or maybe it's the other way around) at her brother's wake ("The Other Family"); a bored couple plot to kill a man during their ski-resort honeymoon ("Marriage Is Murder"); a yuppie banker risks his whole perfect life for an affair with a junkie ("The Fixers"); an insurance-company bounty hunter tracks down walk-aways from drug and alcohol rehab ("Preexisting Condition"); and in the title story, an eleven-year-old boy is caught at the exquisitely uneasy intersection of the safety of childhood play and the pain of grown-up love and longing. These lean, potent stories are utterly original, and yet by turns recall Salinger, in their intellectual acuity, emotional depth, and wicked, dark humor; Fitzgerald, in their vivid chronicling of a new, restless social elite; and the work of "transgressive" writers, in their pervasive sense of the imminent possibility of danger and violence, even in the most civilized surroundings. Above all, the stories in Pure Slaughter Value mark the debut of a striking new literary voice--unsparing, bold, ironic, and true--that will haunt us for a long time to come.
Praise For Pure Slaughter Value…
"The new Lost Generation finds an accomplished mouthpiece in Bingham...an agile, savagely funny writer...it's fun to watch his brainy, abject characters tie themselves in knots." --Publishers Weekly

"Robert Bingham writes like the bastard nephew of John Cheever.  His masterfully crafted portraits of the American ruling class are at once casually intimate and coruscating.  A spy in the dorm rooms and the boardrooms of privilege, he stalks where hacks have rushed in before him, and brings back stories we have never quite heard before--stories that are difficult to forget."
--Jay McInerney

"Robert Bingham's Pure Slaughter Value is a very fine thing--eerie and precise, deadpan but full of wicked subcurrents, sexual, psychological, and otherwise--a real marvel of wild, heavy thinking disguised as stories so quiet and even-keeled that you literally don't know what hit you."
--Dennis Cooper

"Pure Slaughter Value is a fine debut for a writer who is loaded with talent."
--Ward Just

"Like their author, these characters are ferociously wised up.  Think of social, fiduciary, and erotic affiliations between the children of John Cheever's characters and Robert Stone's.  Think of Tom and Daisy Buchanan's offspring, but with more than two wits to rub together.  Why the long faces? Asked and answered by Bingham's drug- and booze-fuzzed (but agonizingly alert), precociously tapped-out protagonists.  The narrators of the first-person tales are ferally unforgiving of themselves, feeling corruptions surging through their privileged genes like viral time-bombs.  Bingham's voices--truly one collective voice, with relentless consistency of moral vision--are immediate: a Bingham character lives bang in this New York minute, morally vigilant, nobody's fool but his own fool.  These stories hurt; they're meant to hurt, one hundred percent felt."
--Geoffrey Wolff

"You take some fascinatingly unlikable characters, mash them up with  chillingly despicable ones, incorporate them in surprising and funny stories, and you get a convincing mÚlange called Pure Slaughter Value that you wish wasn't so convincing.  You then try to comfort yourself with the thought that your creations remind you of no more than 50% of the people you know."
--Amanda Filipacchi

"[Bingham] writes with elegance and economy and a wicked sense of humor."
--Los Angeles Times