The Gay Canon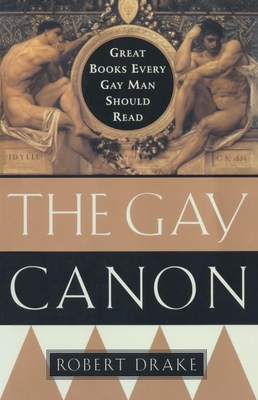 The Gay Canon
Great Books Every Gay Man Should Read
Anchor Books, Paperback, 9780385492287, 512pp.
Publication Date: November 9, 1998
* Individual store prices may vary.
Buy Now
or
Shop Local
Enter your zip code below to purchase from an indie close to you.
Description
There are countless works of interest to gay men in print right now--anthologies, novels, memoirs, and more. It is a reflection of progress that there is such an openly recognizable culture. Yet how to make sense of the choices offered? What do gay men need to read? What books have shaped the gay heart, mind, and soul?

The Gay Canon gives its readers answers to these questions. Not only does it list the one hundred great gay books that have influenced writers and continue to shape the gay imagination, it also provides a deeper, more comprehensive look at the twenty-six most seminal works, each of which is followed by a series of useful group discussion questions. Reaching all the way back to Gilgamesh and continuing through classics like Leaves of Grass, Confessions of a Mask, and The Wild Boys, as well as more recent books like Borrowed Time, The Gay Canon consistently avoids impenetrable academic literary criticism in favor of a more popular introduction for general readers and book groups.

The Gay Canon is a book to give to any young man just coming out, a book every gay reading group will want to rely on, and--most important--a book that will enrich and improve the gay story that continues to be written.
About the Author
Drake has worked as a literary agent since 1986. His pop-culture novel The Man rapidly developed a cult following after it was released in 1995.

Jane Drake and Ann Love are sisters and co-authors who have shared a life-long interest in the environment and the wild. Their writing for children has always had a natural history/environmental-action focus. They are interested in making children more observant of the natural world. Together they are the authors of many award- winning books, including their most recent, "The Kids Winter Cottage Book. They have been short-listed for numerous awards including the Red Cedar Award, the Norma Fleck Award, the Hackmatack Award, and the Silver Birch Award. Jane Drake is one of the founding members of Pollution Probe. Both Jane and Ann are married with three children each and live in the Toronto area.
Andrew Kiss came to Canada from Hungary in 1957. He grew up on Vancouver Island teaching himself how to paint while working as a topographical draftsman. He paints wildlife, primarily birds, and has spent much of his life traveling the world to see his subjects in their natural habitats. Andrew Kiss's work has been exhibited across North America and Europe. "Cool Woods is his fourth book with Tundra.