Just Too Good to Be True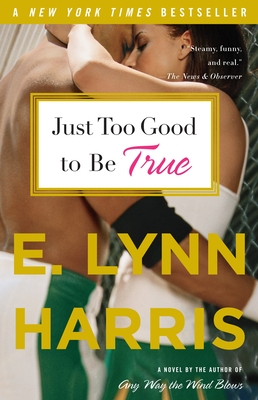 Just Too Good to Be True
Anchor Books, Paperback, 9780385492737, 319pp.
Publication Date: June 30, 2009
* Individual store prices may vary.
Buy Now
or
Shop Local
Enter your zip code below to purchase from an indie close to you.
Description
A New York Times Bestseller Brady Bledsoe and his mother, Carmyn, have a strong relationship. A single mother, faithful churchgoer, and the owner of several successful Atlanta beauty salons, Carmyn has devoted herself to her son and his dream of becoming a professional football player. Brady has always followed her lead, including becoming a member of the church's "Celibacy Circle." Now, in his senior year at college, the smart and very handsome Brady is a lead contender for the Heisman Trophy and a spot in the NFL. As sports agents hover around Brady, a beautiful and charming cheerleader named Barrett enters the picture. Barrett is set on seducing Brady and getting a piece of his multimillion-dollar future. But is that all she wants from him? Is she acting alone? In a story that combines football, family, faith and secrets, Just Too Good to Be True is a sweeping novel that proves once and again why E. Lynn Harris is a bestselling author.
About the Author
E. Lynn Harris (1955-2009) was a New York Times bestselling and critically acclaimed author. His twelve novels include Basketball Jones and If This World Were Mine.
Praise For Just Too Good to Be True…
"Steamy, funny, and real."
—The News & Observer

"Harris is a great storyteller who knows how to tug on the heartstrings with wit and sensitivity."
—USA Today

"Harris's books are hot, in more ways than one."
—The Philadelphia Inquirer

"[E. Lynn Harris] tucks in plot twists bound to keep his readers turning pages late at night." —The Washington Post

"The storyline involving the exploitation of star athletes—a hot-button topic to be sure—is excellent."
—Chicago Sun-Times

"Electrifying.... Widely entertaining and heartwarming."
—Urban Reviews

"What's got audiences hooked? Harris's unique spin on the ever-fascinating topics of identity, class, intimacy, sexuality, and friendship."
—Vibe

"Harris is a wonderful writer. His romantic scenes...are always touching."
—San Francisco Chronicle

"From naked cocktail parties to religious conundrums, Harris gives you just the right amount of raunchiness and redemption."
—Upscale

"E. Lynn Harris is the Beach Read King. All hail."
—Fort Worth Star-Telegram

"Harris has stimulated a dialogue within the African-American community desperately needed for so long about the complicated issues of sexuality."
—Southern Voice