Purgatorio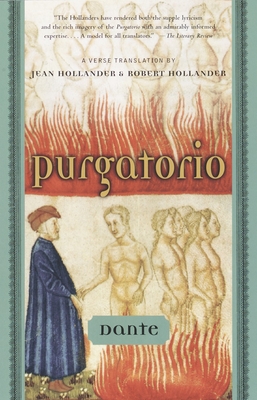 Purgatorio
Anchor Books, Paperback, 9780385497008, 848pp.
Publication Date: January 6, 2004
* Individual store prices may vary.
Buy at Local Store
Enter your zip code below to purchase from an indie close to you.
or
Buy Here
Description
Now I shall sing the second kingdom,
there where the soul of man is cleansed,
made worthy to ascend to heaven.
In the second book of Dante's epic poem The Divine Comedy, Dante has left hell and begins the ascent of the mount of purgatory. Just as hell had its circles, purgatory, situated at the threshold of heaven, has its terraces, each representing one of the seven mortal sins. With Virgil again as his guide, Dante climbs the mountain; the poet shows us, on its slopes, those whose lives were variously governed by pride, envy, wrath, sloth, avarice, gluttony, and lust. As he witnesses the penance required on each successive terrace, Dante often feels the smart of his own sins. His reward will be a walk through the garden of Eden, perhaps the most remarkable invention in the history of literature.
Now Jean Hollander, an accomplished poet, and Robert Hollander, a renowned scholar and master teacher, whose joint translation of the Inferno was acclaimed as a new standard in English, bring their respective gifts to Purgatorio in an arresting and clear verse translation. Featuring the original Italian text opposite the translation, their edition offers an extensive and accessible introduction as well as generous historical and interpretive commentaries that draw on centuries of scholarship and Robert Hollander's own decades of teaching and reasearch.
About the Author
Jean Hollander is a poet, teacher, and director of the Writers' Conference at the College of New Jersey. Robert Hollander, her husband, has been teaching Dante s Divine Comedy to Princeton students for forty years, and is the author of a dozen books and more than seventy articles on Dante, Boccaccio, and other Italian authors. He has received many awards, including the gold medal of the city of Florence, in recognition of his work on Dante. They are at work on their translation of Paradiso, the conclusion of the Divine Comedy."
Praise For Purgatorio…
"The Hollanders have rendered both the supple lyricism and the rich imagery of the Purgatorio with an admirably informed expertise. . . . A model for all translators." The Literary Review

"The Hollanders' translation . . . seems the most accessible and the closest to the Italian. . . . The provision of informative notes . . . is impeccable . . . with ample commentary easily and unobturisvely available at the end of each canto." --Tim Parks, The New Yorker

"The Hollanders' translation is probably the most finely accomplished and may well prove the most enduring." --R.W. B. Lewis, Los Angeles Times