Hidden in Plain View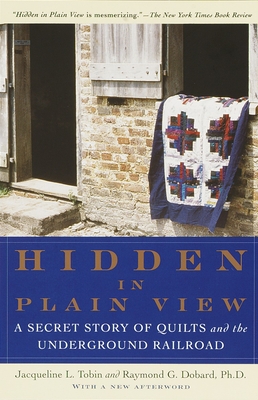 Hidden in Plain View
A Secret Story of Quilts and the Underground Railroad
Anchor Books, Paperback, 9780385497671, 240pp.
Publication Date: January 17, 2000
* Individual store prices may vary.
Buy at Local Store
Enter your zip code below to purchase from an indie close to you.
or
Buy Here
Description
The fascinating story of a friendship, a lost tradition, and an incredible discovery, revealing how enslaved men and women made encoded quilts and then used them to navigate their escape on the Underground Railroad.
"A groundbreaking work."--"Emerge"
In Hidden in Plain View, historian Jacqueline Tobin and scholar Raymond Dobard offer the first proof that certain quilt patterns, including a prominent one called the Charleston Code, were, in fact, essential tools for escape along the Underground Railroad. In 1993, historian Jacqueline Tobin met African American quilter Ozella Williams amid piles of beautiful handmade quilts in the Old Market Building of Charleston, South Carolina. With the admonition to "write this down," Williams began to describe how slaves made coded quilts and used them to navigate their escape on the Underground Railroad. But just as quickly as she started, Williams stopped, informing Tobin that she would learn the rest when she was "ready." During the three years it took for Williams's narrative to unfold--and as the friendship and trust between the two women grew--Tobin enlisted Raymond Dobard, Ph.D., an art history professor and well-known African American quilter, to help unravel the mystery.
Part adventure and part history, Hidden in Plain View traces the origin of the Charleston Code from Africa to the Carolinas, from the low-country island Gullah peoples to free blacks living in the cities of the North, and shows how three people from completely different backgrounds pieced together one amazing American story.
About the Author
Jacqueline Tobin is the author of "Hidden in Plain View: A Secret Story of Quilts and the Underground Railroad "and "The Tao of Women," She is on the adjunct faculty at the University of Denver, where she teaches courses in writing and research. She has spent the last fifteen years researching and writing on African American Civil War history and uncovering untold stories. Jacqueline lives in Denver with her husband, Stewart, and her dog, Sheba. She has two grown children, Alex and Jasmine, and a son in law, Patrick.
Hettie Jones's seventeen books include "How I Became Hettie Jones," a memoir of the "Beat Scene"; the poetry collection "Drive, "which won the Poetry Society of America's 1999 Norma Farber Award; "Big Star Fallin' Mama (Five Women in Black Music)";" "and "No Woman, No Cry, "a memoir with Bob Marley's widow, Rita. Jones's short prose and poetry have appeared in the" Village Voice," the" Washington Post," and elsewhere. She lives in New York City, where she teaches writing at the New School and the 92nd Street Y Poetry Center.

Dobard is an art history professor at Howard University and a nationally known African-American quilter.

Benberry, who for over thirty years has researched and studied quilts, is internationally known for her scholarship on quilts.
Praise For Hidden in Plain View…
"Startling--intriguing."--The New York Times