The Forgetting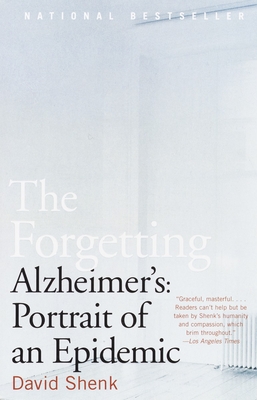 The Forgetting
Alzheimer's: Portrait of an Epidemic
Anchor Books, Paperback, 9780385498388, 304pp.
Publication Date: January 7, 2003
* Individual store prices may vary.
Buy at Local Store
Enter your zip code below to purchase from an indie close to you.
or
Buy Here
Description
Afflicting nearly half of all persons over the age of 85, Alzheimer's disease kills nearly 100,000 Americas a year as it insidiously robs them of their memory and wreaks havoc on the lives of their loved ones. It was once minimized and misunderstood as forgetfulness in the elderly, but Alzheimer's is now at the forefront of many medical and scientific agendas, for as the world's population ages, the disease will kill millions more and touch the lives of virtually everyone.

The Forgetting is a scrupulously researched, multilayered analysis of Alzheimer's and its social, medical, and spiritual implications. David Shenk presents us with much more than a detailed explanation of its causes and effects and the search for a cure. He movingly captures the disease's impact on its victims and their families, and he looks back through history, explaining how Alzheimer's most likely afflicted such figures as Jonathan Swift, Ralph Waldo Emerson,and William de Kooning. The result is a searing, powerfully engaging account of Alzheimer's disease, offering a grim but sympathetic and ultimately encouraging portrait.
About the Author
David Shenk is the author of three previous books, including Data Smog," "which "The New York Times" hailed as an "indispensable guide to the big picture of technology's cultural impact." A former fellow at the Freedom Forum Media Studies Center at Columbia University, he has written for "Harper's, Wired, Salon, The New Republic, The Washington Post, "and" The New Yorker, "and is an occasional commentator for NPR's "All Things Considered." He lives in Brooklyn, New York, with his wife and daughter.
Praise For The Forgetting…
"Riveting . . . Superb . . . A wonderfully readable history of the brain and of memory." –San Francisco Chronicle Book Review

"A remarkable addition to the literature of the science of the mind . . . Shenk has drawn together threads of neurobiology, art history, and psychology into a literary portrait of Alzheimer's disease perfectly balanced between sorrow and wonder, devastation and awe." –Los Angeles Times Book Review

"An elegant new book . . . Shenk rises above the usual rhetoric of combat and cure, enabling us to confront Alzheimer's not as an alien pestilence but as part of the human condition." –Newsweek

"Written with a researcher's attention to detail and a storyteller's ear." –The New York Times Book Review

"Destined to be a classic . . . Shenk's guided tour is free of medical jargon, filled instead with clear and sometimes memorable phrasing." –The Seattle Times

"A fascinating meditation . . . Shenk has found something beautiful and soulful in a condition that forces people to live in the perpetual 'now.' . . . Deeply affecting." —The Washington Post Book World

"A graceful, masterful portrait of [the] illness. . . Readers can't help but be taken by Shenk's humanity and compassion, which brim throughout." –The Los Angeles Times

"Compelling and immensely humane . . . Shenk's integration of historical and scientific information and personal stories makes for an absorbing read." —Newsday

"A dazzling literary and scientific history of Alzheimer's disease." —Detroit Free Press

"A brilliant and quirky new book on Alzheimer's [that] offers food for thought on the unthinkable and a new, deeper understanding of the coming epidemic." —Salon.com

"Carefully researched and engagingly written." —The Wall Street Journal

"Shenk makes the science understandable and recounts personal stories that are both moving and illuminating. . . . A fascinating account of what memories are made of." —Business Week

"An excellent new book." —The New Yorker

"Beautifully written and philosophically minded." —Time Out New York

"Fascinating . . . As good as the science in this book is, it takes a back seat to Shenk's eloquent reflections on the meaning of memory and aging, and their connection to our sense of self." —The Washington Monthly

"Absorbing and enlightening...an engrossing story." –The Times Literary Supplement (London)

"Told plainly and movingly. . . . Anyone appalled by the possibility of losing their mind, or who has watched another's being stolen by Alzheimer's, should read this excellent book: I guess that's all of us."–New Scientist

"Shenk is a wonderful writer on science....He has an eye for the social and financial forces that shape scientific interests and he brings key players, whether proteins or people, to dramatic life." –The Independent (London)

"Highly recommended." –Journal of the American Medical Association

"The definitive work on Alzheimer's. A truly remarkable book."–John Bayley, author of Elegy for Iris