Sermons to the People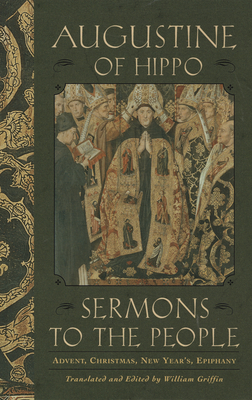 Sermons to the People
Advent, Christmas, New Year, Epiphany
Image, Paperback, 9780385503112, 272pp.
Publication Date: October 15, 2002
* Individual store prices may vary.
Buy at Local Store
Enter your zip code below to purchase from an indie close to you.
or
Buy Here
Description
A superb new translation brings the words of Augustine the preacher stirringly to life!

When the great Saint Augustine was called from his country home to become Bishop of Hippo in the fourth century, his new responsibilities took him away from the solitude of his writing and into the glare of the public eye. The author of two of the greatest works of religious literature, Confessions and City of God, Augustine became a shepherd to the people, inspiring and enlightening them with his sermons. His skills as a speaker were as great–if not greater–than his skills as a writer. According to his friend Possidius, "Those who read what Augustine wrote on the divine topics do get something out of them. But those who saw and heard him in person–they were the ones who got heaven and Earth."

Sermons to the People collects the homilies on the liturgical seasons of the Church Saint Augustine delivered over the course of his lifetime. This Image edition includes the first sermons in that vast collection: from Advent, Christmas, New Year's, and the Epiphany. Newly translated by William Griffin, they address timeless concerns, including the problems of materialism and the intellectual difficulties of faith. Griffin renders the sermons with such immediacy, it is as though he had been present when Augustine spoke to his flock.
About the Author


Augustine was born in AD 354. He lived a wild, self-destructive life as a young man in Italy and was the subject of many prayers by his worried mother, Monica. After a life-changing conversion, he lived on to become a tremendous influence on Christian thinking. He died in AD 430.


Praise For Sermons to the People…
"These sermons come alive in Griffin's marvelous translation." –William Barry, SJ, coauthor of The Practice of Spiritual Direction

"While Augustine was writing landmark theology, he was also preaching earthy, colloquial, witty, Christ-honoring sermons to his African congregation. Now, thanks to this lively translation, he's preaching them to us."
–Eugene Peterson, professor emeritus, Regent College, Vancouver, British Columbia; translator, The Message

"In this delightful translation, Mr. Griffin has recovered the Augustine's homilies, delivering them all the way into the contemporary idiom, where yet another generation might hear his living voice." –Scott Cairns, author of Philokalia