The Promise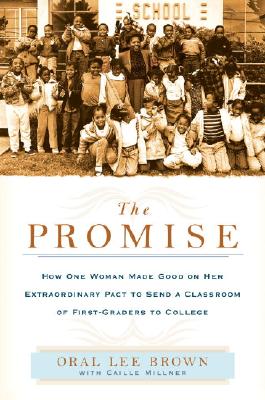 The Promise
How One Woman Made Good on Her Extraordinary Pact to Send a Classroom of 1st Graders to College
Doubleday, Hardcover, 9780385511476, 272pp.
Publication Date: April 5, 2005
* Individual store prices may vary.
Not Currently Available for Direct Purchase
or
Shop Local
Enter your zip code below to purchase from an indie close to you.
Description
In the bestselling tradition of The Pact and The Freedom Writers Diary—the inspiring story of one woman's extraordinary promise and steely determination to make a difference in the world.

One morning in 1987 Oral Lee Brown walked into a corner store in East Oakland, California, to buy snacks for work. A little girl asked her for a quarter, and Brown assumed that she wanted to buy candy, but surprisingly she bought bread and bologna—staples for her family.

Later that day Brown couldn't get the little girl out of her mind. Why wasn't she in school? Why was she out begging for money to buy food for her family? After several weeks of not being able to sleep, Brown went to look for the girl at the local elementary school and soon found herself in a first-grade classroom. She didn't find the little girl, but before she left she found herself promising the kids that if they finished high school, she would pay for their college education.

At the time, Oral Lee Brown made only $45,000 a year.

But years later, after annually saving and investing $10,000 of her own money and establishing the Oral Lee Brown Foundation, this remarkable woman made good on her promise: after nineteen of the original twenty-three students graduated from high school, she sent them all to college. And in May of 2003, LaTosha Hunter was the first of Brown's "babies," as well as the first person in her family, to graduate from college.

This marvelous and inspiring book is the amazing story of one woman's unending desire to make a difference. And if once was not enough, in 2001 Brown made the same promise to three new classrooms of first-, fifth-, and ninth-graders. Brown and her foundation are now committed to adopting a new crop of kids to send to college every four years.

Brown's pledge to the students was not without great personal and public sacrifice. Her promise turned her life upside-down—it strained her relationships, and at times required her to work several different jobs. Brown also developed a strong emotional attachment to the children—for many of these students Brown was the one consistent adult in their lives.

In a world short on heroes, altruism, and dedication, THE PROMISE shows that it is still possible to change lives for the better. This book will encourage, uplift, and inspire every reader.

A portion of the proceeds from the book will go to the Oral Lee Brown Foundation. To learn more about the Oral Lee Brown Foundation please visit www.oralleebrownfoundation.com.
About the Author
ORAL LEE BROWN was selected as one of Glamour magazine's "Women of the Year" in 2002, and appeared on the Today show as part of its "People Who Make a Difference" series. She has also been a guest on The Oprah Winfrey Show, NBC Nightly News with Tom Brokaw, and Courage, hosted by Danny Glover. She has received numerous awards, including the California State Lottery Hero in Education Award, the "Ten Most Influential People Award," given by San Francisco mayor Willie Brown, and the Madame C.J. Walker Award. She lives in Oakland, California. CAILLE MILLNER was listed as one of Columbia Journalism Review's "Ten Most Promising Young Magazine Writers." She is currently a reporter and editorial writer for the San Jose Mercury News.
Praise For The Promise…
"With a selfless devotion that will inspire every reader, Mrs. Oral Lee Brown's story has the power to change the way we feel about doing the work that needs to be done. After reading this book, you will be empowered to take on challenges in your own life and community. Oral Lee Brown is the kind of hero we need more of!"
-- Tavis Smiley, author and host, Tavis Smiley on PBS

"Oral Lee Brown is a remarkable role model. By adopting an entire elementary class, she continues to share her success and perseverance with our entire community. Surely, Oral Lee's efforts impact the students and their families, but her selflessness is an example for everyone. Most importantly, she helped cultivate Oakland's next community of leaders."
--The Honorable Don Perata, President pro Tempore, California State Senate
"What an amazing story, and what an amazing woman!  Ms. Brown and her "kids" stand as a beacon of hope to students everywhere who lack the access, but not the drive to achieve higher education. This book will inspire you to reach inside of yourself and discover how you can become an advocate in your own community."
-- Erin Gruwell, author of The Freedom Writers Diary