Jezebel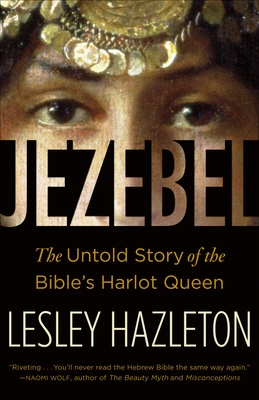 Jezebel
The Untold Story of the Bible's Harlot Queen
Doubleday Books, Paperback, 9780385516150, 258pp.
Publication Date: March 17, 2009
* Individual store prices may vary.
Buy at Local Store
Enter your zip code below to purchase from an indie close to you.
or
Buy Here
Description
There is no woman with a worse reputation than Jezebel, the ancient queen who corrupted a nation and met one of the most gruesome fates in the Bible. Her name alone speaks of sexual decadence and promiscuity. But what if this version of her story, handed down to us through the ages, is merely the one her enemies wanted us to believe? What if Jezebel, far from being a conniving harlot, was, in fact, framed?
In this remarkable new biography, Lesley Hazleton shows exactly how the proud and courageous queen of Israel was vilified and made into the very embodiment of wanton wickedness by her political and religious enemies. "Jezebel "brings readers back to the source of the biblical story, a rich and dramatic saga featuring evil schemes and underhanded plots, war and treason, false gods and falser humans, and all with the fate of entire nations at stake. At its center are just one woman and one man--the sophisticated Queen Jezebel and the stark prophet Elijah. Their epic and ultimately tragic confrontation pits tolerance against righteousness, pragmatism against divine dictates, and liberalism against conservatism. It is, in other words, the original story of the unholy marriage of sex, politics, and religion, and it ends in one of the most chillingly brutal scenes in the entire Bible.
Here at last is the real story of the rise and fall of this legendary woman--a radically different portrait with startling contemporary resonance in a world mired once again in religious wars.
About the Author
Lesley Hazleton reported on the Middle East from Jerusalem for more than a dozen years, and has written for "Time", "The New York Times", "The New York Review of Books", and "Harper s", among other publications. Her last book, "After the Prophet", was a finalist for the PEN-USA book Award. Hazleton lives in Seattle.
Praise For Jezebel…
Advance Praise for Jezebel:

"This riveting biography breaks through all our preconceptions about Jezebel. In Hazleton's hands, the real story of the 'harlot queen' is a vivid and magnificent drama with direct relevance to our own time. You'll never read the Hebrew bible the same way again."
—Naomi Wolf, author of The Beauty Myth and Misconceptions

"I read Jezebel in a single enthralled sitting. In her wonderfully spirited retelling of the Books of Kings, Lesley Hazleton makes Jezebel our contemporary, and turns the ninth century B.C. into a prophetic mirror of our twenty-first-century religiopolitical wars. In a feat of nonfiction magical realism, she brilliantly collapses the worlds of now and then into one realm, where Jezebel and Elijah effortlessly rub shoulders with Ehud Olmert and Sheik Hassan Nasrallah. The book is endlessly informative (and Hazleton's knowledge of Hebrew serves her well here); it is also great fun."
—Jonathan Raban, author of Surveillance

"This riveting book tells the story of the real-life, flesh-and-blood-and-brain female whose name has been, for the last three thousand years, shorthand for Bad Girl. Was Jezebel really 'bad'? Or was she, like so many forward-thinking women after her, simply feared as a foreigner, reviled as an infidel, destroyed as a deviant? Read this book and find out."
—Rebecca Brown, author of The Gifts of the Body

"Lesley Hazleton is a terrific, charismatic writer, and this book is an eloquent, smart, and thought-provoking reinterpretation of the biblical tale of Jezebel."
—Neil Asher Silberman, author of David and Solomon


Praise for Mary: A Flesh-and-Blood Biography of the Virgin Mother:

"Thoughtful, evocative, and eminently readable...Dazzling to read and weighty to ponder."
—Booklist

"Readers who loved the phenomenally popular fictional chronicle of Jacob's daughter Dina in Anita Diamant's The Red Tent will find this book about Mary, the mother of Jesus, just as enthralling....She also knows how to write a page-turner."
—Publishers Weekly

"Weaves historical facts with empathy and imagination to construct a plausible, visceral version of this celebrated woman."
—Los Angeles Times Book Review