Ordinary Work, Extraordinary Grace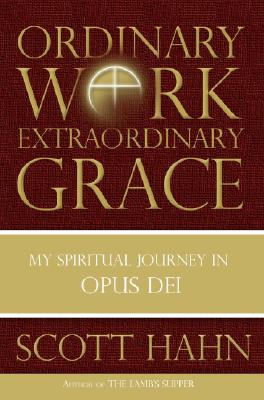 Ordinary Work, Extraordinary Grace
My Spiritual Journey in Opus Dei
Doubleday Books, Hardcover, 9780385519243, 155pp.
Publication Date: September 26, 2006
* Individual store prices may vary.
Buy at Local Store
Enter your zip code below to purchase from an indie close to you.
or
Buy Here
Description
To conspiracy theorists, Opus Dei is a highly secretive and powerful international organization. To its members, however, Opus Dei is a spiritual path, a way of incorporating the teachings of Jesus into everyday life. In "Ordinary Work, Extraordinary Grace," Scott Hahn, a member of Opus Dei, describes the organization's founding, its mission, and its profound influence on his life.
Hahn recounts the invaluable part Opus Dei played in his conversion from Evangelical Christianity to Catholicism and explains why its teachings remain at the center of his life. Through stories about his job, his marriage, his role as a parent, and his community activities, Hahn shows how Opus Dei's spirituality enriches the meaning of daily tasks and transforms ordinary relationships. He offers inspiring insights for reconciling spiritual and material goals, discussing topics ranging from ambition, workaholism, friendship, and sex, to the place of prayer and sacrifice in Christianity today.
Engaging and enlightening, "Ordinary Work, Extraordinary Grace" is at once a moving personal story and an inspiring work of contemporary spirituality.
About the Author
Scott Hahn is Professor of Theology and Scripture at the Franciscan University of Steubenville, in Steubenville, Ohio. He also holds the Chair of Biblical Theology and Liturgical Proclamation at St. Vincent Seminary in Latrobe, Pennsylvania. He is author of The Lamb's Supper, Lord Have Mercy; Swear to God: The Promise and Power of Sacraments; and Letter and Spirit: From Written Text of Living Word in the Liturgy.
Praise For Ordinary Work, Extraordinary Grace…
Advance Praise for Ordinary Work, Extraordinary Grace 


"Only a few years ago, Opus Dei was seen as alien, secretive, and sinister. Then some writers began to take a closer look. Now Scott Hahn has given us a lively and readable account of the joy he and thousands of others have discovered in doing God's work in God's world."

—(The Rev.) Richard John Neuhaus, editor-in-chief of First Things


"If you want the real story about Opus Dei, Scott Hahn will give you the shocking truth—the shock of a Gospel life lived effectively in the midst of the world. Like all his other books, this one will challenge your view of the Christian life."

—Father Benedict J. Groeshcel, C.F.R., author of Arise From Darkness
 

 "Scott Hahn's abilities as a scholar, teacher, and writer are already well known. But the story of his journey to Opus Dei that emerges here, and his portrait of The Work remind us that each of us, no matter what our vocation or state of life, is called to holiness. This is compelling reading."
—Charles J. Chaput, O.F.M. Cap., Archbishop of Denver


"In the vast ocean of literature on Opus Dei, what we have not had until now is a book written by an insider but accessible to outsiders. Faced with the popular myth of a militant, foreboding society, the average person has been left to ask: What in the world might attract someone to this? Scott Hahn provides the answer. He opens up the spiritual core of Opus Dei, explaining why tens of thousands of thoughtful people have seen it as their pathway to holiness, and to the holiness of the world. In these pages, Hahn's prose is at its sparkling, insightful, crystal-clear best. It's a book that needed to be written, so that we all may understand."

—John Allen, Vatican writer for the National Catholic Reporter and author of Opus Dei
 

"Scott Hahn is one of our finest spiritual writers, and in Opus Dei he has found a subject worthy of his gifts. This is a book that everyone can ponder and pray over with profit."

—Russell Shaw, author of Catholic Laity in the Mission of the Church and Personal Vocation