Make the Impossible Possible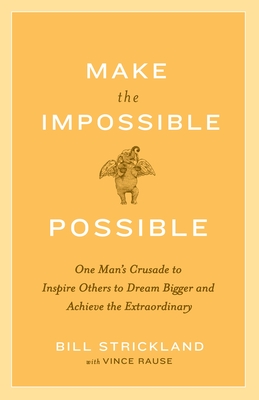 Make the Impossible Possible
One Man's Crusade to Inspire Others to Dream Bigger and Achieve the Extraordinary
Broadway Business, Paperback, 9780385520553, 231pp.
Publication Date: October 20, 2009
* Individual store prices may vary.
Buy at Local Store
Enter your zip code below to purchase from an indie close to you.
or
Buy Here
Description
Bill Strickland has spend the past thirty years transforming the lives of thousands of people through Manchester Bidwell, the jobs training center and community arts program he founded in Pittsburgh. Working with corporations, community leaders, and schools, he and his staff strive to give disadvantaged kids and adults the opportunities and tools they need to envision and build a better, brighter future.
In "Make the Impossible Possible," Bill Strickland shows how each of us, by adopting the attitudes and beliefs he has lived by every day, can reach our fullest potential and achieve the impossible in our lives and careers--and perhaps change the world a little in the process. Through lessons from Strickland's own life experiences and those of countless others who have overcome challenging circumstances and turned their lives around, "Make the Impossible Possible "teaches us how to build on our passions and strengths, dream bigger and set the bar higher, achieve meaningful success, and inspire the lives of others.
About the Author
Bill Strickland is a contributing writer and staff member for "Mountain Bike" magazine, was managing editor for "Bicycling" magazine, and has written about mountain biking for "Bicycling, Men's Health, Men's Journal, Verge", and "Blue" magazines. No stranger to tough rides, he once rode eight days across France and Belgium--about 100 miles per day.
Nando Parrado lives in Montevideo, Uruguay.
Vince Rause lives in Pittsburgh.
"From the Hardcover edition."
Praise For Make the Impossible Possible…
Acclaim for Make the Impossible Possible

"Passionate. Inspirational. Hopeful. Optimistic. Powerful. Compelling. And most important— it works . . . Here is the cure to what ails this country. Take it home. Read it. Then live it." —Alan M. Webber, founding editor, Fast Company magazine

"Are you yearning to pursue what others say is an unrealistic or impractical dream? This is the book for you. By telling his remarkable story, Bill Strickland shows us that an impossible notion is just an idea nobody had the guts to try.  With great flair and amazing range—you'll read about jazz, pottery, airplanes, even orchids!—he reveals how each of us can change our part of the world. Like the man who wrote it, this book is inspired and inspiring." —Daniel H. Pink, New York Times bestselling author of A Whole New Mind

"Bill Strickland is a genius, because he sees the inherent genius in everyone. Bill's ability to inspire hope is powerful, universal, and world changing. Make the Impossible Possible will show you how you can achieve even your wildest dreams. Bravo!" —Jeff Skoll, first president of eBay, founder and chairman, Skoll Foundation

"We often hear the word inspire, likely allowing it to pass and not sink in our psyche.
However we often will never forget things that inspire us. A visit to see Bill Strickland's concept in Pittsburgh was one of those events for me. Now you can read about how he was driven to build it." —Jim Hackett, President and CEO, Steelcase, Inc.

"Bill Strickland could sell anything . . . Read this book and you'll understand why he is such an inspiration to practicing and aspiring entrepreneurs." —James Heskett, Harvard Business School

PRAISE FOR BILL STRICKLAND AND MANCHESTER BIDWELL
"One of the most innovative social enterprise thinkers I have ever met. The 'Strickland' thought process is that of a highly trained jazz musician, coupled with a keen business sense . . . He is definitely one of my major heroes." —Quincy Jones

"The Manchester Craftsmen's Guild is a testament to the power of the arts to transform children's lives. Its students learn much more than how to shape clay, take pictures, and appreciate jazz. They leave the Guild knowing that they have the potential and tools to become successful and productive citizens." —Hillary Rodham Clinton