Ellington Boulevard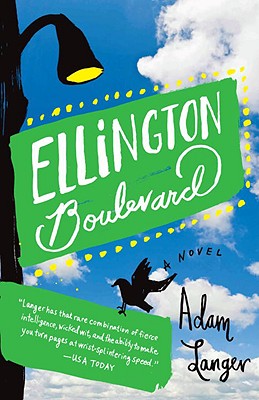 Ellington Boulevard
A Novel in A-Flat
Spiegel & Grau, Paperback, 9780385522069, 336pp.
Publication Date: May 26, 2009
* Individual store prices may vary.
Not Currently Available for Direct Purchase
or
Shop Local
Enter your zip code below to purchase from an indie close to you.
Description
Clarinetist Ike Morphy, his dog Herbie Mann, and a pair of pigeons who roost on his air conditioner are about to be evicted from their apartment on West 106th Street, also known as Duke Ellington Boulevard. Ike has never had a lease, just a handshake agreement with the recently deceased landlord; and now that landlord's son stands to make a killing on apartment 2B.

Centering on the fate of one apartment before, during, and after the height of New York's real estate boom, Ellington Boulevard's characters include the Tenant and His Dog; the Landlord, a recovered alcoholic and womanizer who has newly found Judaism and a wife half his age; the Broker, an out-of-work actor whose new profession finally allows him to afford theater tickets he has no time to use; the Broker's New Boyfriend, a second-rate actor who composes a musical about the sale of 2B ("Is there no one I can lien on if this boom goes bust?"). There's also the Buyer, a trusting young editor at a dying cultural magazine, who falls in love with the Tenant; the Buyer's Husband, a disaffected graduate student taken to writing bawdy faux-academic papers; and the Buyer's Husband's Girlfriend, a children's book writer with a tragic past.

With the humor and poignancy that made Langer's first novel, Crossing California, a favorite book of the year among critics across the country, Ellington Boulevard is an ode to New York. It's the story of why people come to a city they can't afford, take jobs they despise, sacrifice love, find love, and eventually become the people they never thought they'd be—for better and for worse.
About the Author
Born and raised in Chicago, Adam Langer is the author of the novels "Crossing California", "The Washington Story", "Ellington Boulevard", and "The Thieves of Manhattan", and the memoir "My Father s Bonus March". His has written about books and authors for such publications as the "Chicago Tribune", the "Los Angeles Times", the "New York Times", the "Huffington Post", the "San Francisco Chronicle", and the "Washington Post", among others. He has been a frequent radio and TV guest, including appearances on CNN, Fox, and NPR s "Morning Edition" and "All Things Considered". The Chicago Public Library recently purchased a significant collection of his papers. He is the former senior editor of "Book Magazine" and currently serves as the arts and culture editor of the "Jewish Daily Forward". Langer lives in New York City with his wife, Beate; his daughters, Nora and Solveig; and their dog, Kazoo.
Praise For Ellington Boulevard…
Praise for Ellington Boulevard

"I loved this book, but then I've always been a sucker for quality. Adam Langer lifts the lid off the top of New York City and lets us see, close up, and terribly personally, the cosmopolitan complexity of the city that never sleeps alone. In his fuguelike charting of their lives—lives that cross, lives that double-cross—he reveals his love of all things New York: its people, its dogs, and, even more remarkably, its pigeons. The composition and orchestration that Mr. Langer has gifted us with would have delighted the Duke himself."
—Larry Gelbart, creator of M*A*S*H, co-screenwriter of Tootsie, and Tony Award–winning author of City of Angels and A Funny Thing Happened on the Way to the Forum


"Adam Langer's new novel, Ellington Boulevard, captures all of Manhattan's quirky insanity with great style and a huge amount of fun."
—Barbara Corcoran


"Adam Langer took me on a wonderful trip all over the Upper West Side of Manhattan. The reader will meet musicians, actors, and even a dog named Herbie Mann—open the cover, read, and enjoy! This is his best book yet."
—Eli Wallach


"Adam Langer, who is either a genius or a schizophrenic, inhabits his characters—from a pregnant woman to a pigeon—with brilliant stealth and lovable insouciance. Finally a book has come along that has gotten me excited about reading and even New York again."
—Jennifer Belle, author of High Maintenance and Little Stalker


"I laughed out loud throughout this simultaneously cynical and sentimental New York fairy tale with a love for off-Broadway musicals and the seventeen-key clarinet, and a profound understanding of the importance of dogs."
—Stephen Schwartz, Academy Award–winning lyricist and composer for Wicked, Godspell, Pippin, and The Prince of Egypt