The Greatest Gift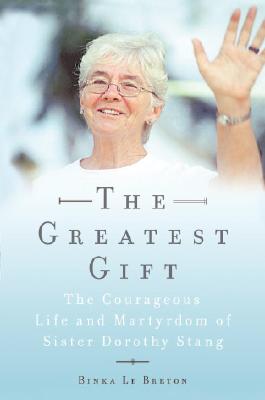 The Greatest Gift
The Courageous Life and Martyrdom of Sister Dorothy Stang
Doubleday Religion, Hardcover, 9780385522182, 256pp.
Publication Date: February 5, 2008
* Individual store prices may vary.
Buy at Local Store
Enter your zip code below to purchase from an indie close to you.
or
Not Currently Available for Direct Purchase
Description
In 1966, Sister Dorothy Stang went to Brazil as a missionary, and in 1982 she moved to a small town in the Amazon to work with an organization to protect poor farmers and their land from loggers and land-developers who stop at nothing—including murder—in pursuit of profits. After testifying at a government panel investigating illegal incursions into protected areas, Sister Dorothy was denounced as a "terrorist" by powerful companies and began receiving death threats. Refusing to be intimidated, she continued her work—until two gunmen shot her six times on a rural Amazon road.

THE GREATEST GIFT is the first biography of this extraordinary woman and her mission. Written by a mainstream journalist who has spent many years in Brazil, it exposes the entrenched collusion between government officials and commercial interests and celebrates the profound courage of Sister Dorothy and others fighting to protect the Amazon jungles and the people eking out a life there.

Inspired by deep religious conviction, Dorothy Stang gave of herself generously. A book that will resonate with readers of Sister Helen Prejean's Dead Man Walking, THE GREATEST GIFT presents not only the story of Sister Dorothy's tragic death, but the powerful and beautiful lessons of her life.
About the Author
BINKA Le BRETON is a British journalist and the author of "A Land to Die For, Trapped: Modern Day Slavery in the Brazilian Amazon, ""Voices of the Amazon, " and "Rain Forests." She is also an award-winning writer, environmental and human rights activist, and non-profit director who lives and works in the Brazilian rainforest.
Praise For The Greatest Gift…
"Dorothy Stang, born and raised in Ohio… was revered for her dedication to the ideal of family farmers who extract their sustenance in harmony with the forest. From her base in the frontier town of Anapu, she worked unceasingly to transform settlers along the Trans-Amazon Highway into environmentally conscious, cohesive, and combative communities, able to resist violent cliques of ranchers and speculators who would lay claim to the same land. Stang saw human rights and environmental conservation in the Amazon as inextricably intertwined. Though poor settlers themselves damage the forest, Stang believed they could learn to manage their land sustainably as a matter of self-preservation. "The death of the forest is the end of our lives," she told her followers."
--National Geographic