Angels All Around Us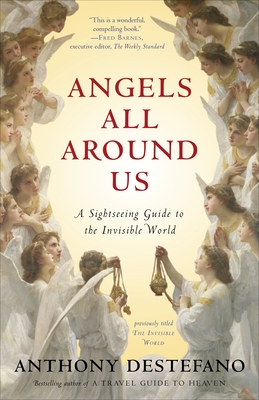 Angels All Around Us
A Sightseeing Guide to the Invisible World
Image, Paperback, 9780385522229, 220pp.
Publication Date: October 16, 2012
* Individual store prices may vary.
Buy at Local Store
Enter your zip code below to purchase from an indie close to you.
or
Buy Here
Description
In Angels All Around Us (previously titled The Invisible World in hardcover), the international bestselling author of A Travel Guide to Heaven and Ten Prayers God Always Says Yes To explains the awesome and mysterious reality of the spiritual dimension that surrounds and permeates our very existence. All aspects of the spiritual realm are discussed, including the existence of angels and demons, the whereabouts of loved ones who have passed, the gift of grace, heaven, hell, and even the presence and activity of God in our lives.
Completely consistent with traditional Christian teaching, Angels All Around Us will help readers embrace a certitude that makes it easier to act according to their moral beliefs, give them a greater sense of the richness of life, and show them that no amount of suffering-physical, mental, or emotional-will ever be able to destroy the profound sense of inner peace that they can experience on a daily basis.
About the Author
Anthony DeStefano is the author of the bestselling books A Travel Guide to Heaven and Ten Prayers God Always Says Yes To. Please visit his website at www.AnthonyDeStefano.com From the Hardcover edition.
Praise For Angels All Around Us…
"Anthony DeStefano will help you discover everything that was previously hidden from you." —Joan Wester Anderson, author of An Angel to Watch Over Me
 
"Reading Angels All Around Us is like spending time with a best friend who is able to take the intricacies of faith and break them down into easy lessons anyone can understand." —Maura Poston Zagrans, bestselling author of Miracles Every Day

"Anthony DeStefano's latest book, Angels All Around Us, is a modern-day classic! No matter what your level of religious faith—and even if you have little or none—this book will transport you to places in the invisible realm that will challenge, inspire, and amaze you." —Dr. Dick Eastman, International President of Every Home for Christ and President of America's National Prayer Committee

"The increasing secularization of society has led, in the words of Pope Benedict XVI, to a sort of 'eclipse of the sense of God.'  Anthony DeStefano's book, Angels All Around Us, is a welcome attempt to remind Christians of truths which, though mentioned explicitly in the Gospel and belonging to the deposit of faith, in recent decades have been overshadowed.  His latest book is a much-needed effort to utilize modern methods of communication to spread the Gospel message and also to work toward a greater Christian unity." —Archbishop Rino Fisichella, President, Pontifical Council for the Promotion of the New Evangelization, Vatican City, Rome

"Anthony DeStefano brings to life 'the hidden world God has created for us,' a world that surrounds us but is difficult for even the most convinced Christian to get in touch with, much less the seeker or non-believer. And he does this in a more vivid and realistic way than I would have thought possible. Angels, devils, and grace? DeStefano makes them almost visible. This is a wonderful, compelling book, completely consistent with traditional Christian teaching and common sense – and very, very readable." —Fred Barnes, Executive Editor, Weekly Standard

"Sadly, many people today are so materialistic in their thinking that they've forgotten that the most important things in life are unseen and spiritual. Love, honor, compassion, forgiveness, hope–all of these are invisible. Finally, there is a book that makes the whole invisible spiritual world come to life in the most extraordinary and vivid way. Anthony DeStefano's words will inspire even the most hardened and materialistic cynic to begin exploring a richer, fuller life based on faith in a God who is so good." —Delilah, Nationally Syndicated Radio Host

"I may not always agree with Anthony DeStefano, but there is no doubt he is a highly intelligent and witty writer; and assuming the existence of an invisible world, he has produced a very interesting and thought-provoking book about spirituality."—Vincent Bugliosi, author of Divinity of Doubt and 5 New York Times Bestsellers, including Helter Skelter