The Rite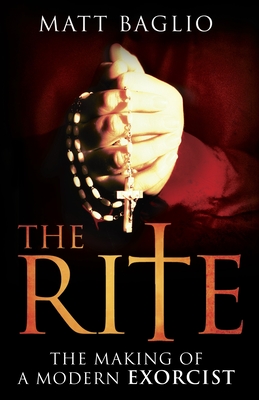 The Rite
The Making of a Modern Exorcist
Doubleday Religion, Paperback, 9780385522717, 294pp.
Publication Date: June 15, 2010
* Individual store prices may vary.
Buy at Local Store
Enter your zip code below to purchase from an indie close to you.
or
Buy Here
Description
In 2007, the Vatican's chief exorcist revealed an initiative to install an exorcist in every diocese worldwide. Three days later, the Vatican denied the story.
Father Gary Thomas was working as a parish priest in California when church leaders asked him to travel to Rome for training in the rite of exorcism. In Rome, as an apprentice to a veteran Italian exorcist, his eyes were opened to a darker side of the Catholic faith he had never known, and he came to see the battle between good and evil as never before. Journalist Matt Baglio had full access to Father Gary over the course of his training, and the astonishing story he found reveals that the phenomena of possession, demons, the Devil, and exorcism are not merely a remnant of the archaic past, but remain a fearsome power in many people's lives even today. The inspiration for the movie The Rite, starring Anthony Hopkins, this book provides a uniquely intimate glimpse into the chilling world of a real-life Roman Catholic exorcist.
About the Author
MATT BAGLIO, a reporter living in Rome, has written for the Associated Press and the International Herald Tribune.
Praise For The Rite…
Praise for The Rite

"There are chilling descriptions of exorcists battling demons in The Rite … Baglio has strong storytelling skills, and constructs a narrative that travels a long distance quickly."
– LA Times

"Matt Baglio's book is a wake-up call. It smashes the many myths created by Hollywood movies and other amateurs on the subject about exorcism and the role of the exorcist in the Catholic Church."
— Father Basil Cole, O.P., professor of moral and spiritual theology of the Pontifical Faculty at the Dominican House of Studies, Washington, D.C.

"Journalist Balgio follows a Catholic priest through the latter' s training to become an exorcist in this incisive look at the church's rite of exorcism and its use in contemporary life. Baglio began delving into the topic after hearing about a course at a Vatican-affiliated university, where he met and befriended the Rev. Gary Thomas, a priest in the diocese of San Jose, Calif. Thomas took the exorcism course at the request of his bishop and subsequently apprenticed himself to a seasoned exorcist. Keenly aware of the misunderstanding that abounds about exorcism through film images, Baglio sets about dispelling misconceptions and does so skillfully, separating the real from the imaginary in the mysterious and unsettling sphere of the demonic. Both Thomas and Baglio were changed by their exposure to the rite. Thomas grew spiritually during the process, which bolstered his desire to help his parishioners, and Baglio, previously a nominal Catholic, reconnected with his faith. For anyone seeking a serious and very human examination of this fascinating subject, one that surpasses the sensational, this is absorbing and enlightening reading."
— Publishers Weekly, starred review

"The Rite is in my opinion one of the best books ever written on the topic of exorcism. I have read very few books that give a description as appropriate, as precise, or as detailed, and the author's deep knowledge of the subject makes it a true instrument of knowledge useful for many people."
– Fr. José Antonio Fortea, author of Interview With an Exorcist: An Insider's Look at the Devil, Demonic Possession, and the Path to Deliverance

"Truth is stranger than fiction ... and far more terrifying. Forget what Hollywood tells you about demonic possession and exorcism; The Rite will open your eyes to the awesome truth about such things. I've been investigating paranormal events for some time, but this book taught me much that I didn't know about the timeless battle for the human soul waged between the forces of good and evil. Fascinating, inspiring, and scary, a great read."
— John Kachuba, author of Ghosthunters: On the Trail of Mediums, Dowsers, Spirit Seekers, and Other Investigators of America's Paranormal World

"What sets Baglio's book apart from many other contemporary works on the same subject is its sober, measured tone and steady refusal to sensationalize the subject."
– Amy Wellborn