Nothing to Envy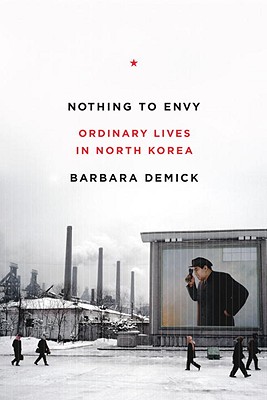 Nothing to Envy
Ordinary Lives in North Korea
Spiegel & Grau, Hardcover, 9780385523905, 314pp.
Publication Date: December 29, 2009
* Individual store prices may vary.
Buy at Local Store
Enter your zip code below to purchase from an indie close to you.
or
Buy Here
Description
A National Book Award finalist and National Book Critics Circle finalist, Barbara Demick's Nothing to Envy is a remarkable view into North Korea, as seen through the lives of six ordinary citizens

Nothing to Envy follows the lives of six North Koreans over fifteen years--a chaotic period that saw the death of Kim Il-sung, the unchallenged rise to power of his son Kim Jong-il, and the devastation of a far-ranging famine that killed one-fifth of the population.
Taking us into a landscape most of us have never before seen, award-winning journalist Barbara Demick brings to life what it means to be living under the most repressive totalitarian regime today--an Orwellian world that is by choice not connected to the Internet, in which radio and television dials are welded to the one government station, and where displays of affection are punished; a police state where informants are rewarded and where an offhand remark can send a person to the gulag for life.
Demick takes us deep inside the country, beyond the reach of government censors. Through meticulous and sensitive reporting, we see her six subjects--average North Korean citizens--fall in love, raise families, nurture ambitions, and struggle for survival. One by one, we experience the moments when they realize that their government has betrayed them.
Nothing to Envy is a groundbreaking addition to the literature of totalitarianism and an eye-opening look at a closed world that is of increasing global importance.
About the Author
Barbara Demick is the Beijing bureau chief of the Los Angeles Times. Her reporting on North Korea won the Overseas Press Club's award for human rights reporting as well as awards from the Asia Society and the American Academy of Diplomacy. Her coverage of Sarajevo for The Philadelphia Inquirer won the George Polk Award and the Robert F. Kennedy Journalism Award and was a finalist for the Pulitzer Prize in international reporting. Her previous book is Logavina Street: Life and Death in a Sarajevo Neighborhood.
Praise For Nothing to Envy…
"The narrow boundaries of our knowledge have expanded radically with the publication of Los Angeles Times correspondent Barbara Demick's Nothing To Envy: Ordinary Lives in North Korea….Elegantly structured and written, Nothing To Envy is a groundbreaking work of literary nonfiction."–Slate

"Excellent… lovely work of narrative nonfiction….a book that offers extensive evidence of the author's deep knowledge of this country while keeping its sights firmly on individual stories and human details."–New York Times

"A deeply moving book."– Wall Street Journal
 
"Superbly reported account of life in North Korea''– Bloomberg
 
"There's a simple way to determine how well a journalist has reported a story, internalized the details, seized control of the narrative and produced good work. When you read the result, you forget the journalist is there. Barbara Demick, the Los Angeles Times' Beijing bureau chief, has aced that test in "Nothing to Envy: Ordinary Lives in North Korea," a clear-eyed and deeply reported look at one of the world's most dismal places.''– Cleveland Plain Dealer
 
"The ring of authority as well as the suspense of a novel.''– Washington Times
 
"Excellent new book is one of only a few that have made full use of the testimony of North Korean refugees and defectors. A delightful, easy-to-read work of literary nonfiction, it humanizes a downtrodden, long-suffering people whose individual lives, hopes and dreams are so little known abroad that North Koreans are often compared to robots… The tale of the star-crossed lovers, Jun-sang and Mi-ran, is so charming as to have inspired reports that Hollywood might be interested."– San Francisco Chronicle
 
"In a stunning work of investigation, Barbara Demick removes North Korea's mask to reveal what lies beneath its media censorship and repressive dictatorship."–Daily Beast
 
"In spite of the strict restrictions on foreign press, awardwinning journalist Demick caught telling glimpses of just how surreal and mournful life is in North Korea… Strongly written and gracefully structured, Demick's potent blend of personal narratives and piercing journalism vividly and evocatively portrays courageous individuals and a tyrannized state."– Booklist
 
"A fascinating and deeply personal look at the lives of six defectors from the repressive totalitarian regime of the Republic of North Korea… As Demick weaves their stories together with the hidden history of the country's descent into chaos, she skillfully re-creates these captivating and moving personal journeys."– Publishers Weekly
 
"These are the stories you'll never hear from North Korea's state news agency."– New York Post
 
"At times a page-turner, at others an intimate study in totalitarian psychology. Demick… takes us inside the minds of her subjects, rendering them as complex, often compelling characters – not the brainwashed parodies we see marching in unison in TV reports."– Philadelphia Inquirer
 
"The last time I read a book with something truly harrowing or pitiful or sad on every page it was Cormac McCarthy's The Road, and those characters had the good fortune to not be real."– St. Louis Magazine
Wednesday, Jan 6, 2010
Barbara Demick's book Nothing to Envy: Ordinary Lives in North Korea opens with a nighttime satellite image of northeast Asia that shows North Korea, which has little electricity, cloaked in darkness. She says the image conveys much about the way North Korea is perceived. More at NPR.org